Talking to shortstop Alexei Ramirez after Thursday's game, the White Sox infielder wasn't quite sure when he'd be able to return from the ligament strain in his left ankle.
[+] Enlarge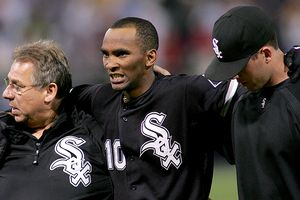 AP Photo/Andy King
Alexei Ramirez's X-rays were negative.
Ramirez said that he's feeling better after working with the White Sox training staff Thursday.
The treatments for Ramirez include walking exercises in the swimming pool for low-impact flexibility and the usual hot-cold therapy. Electric stimulation and ultrasound treatments are also a part of Ramirez's rehabilitation.
The White Sox shortstop is also using a boot that keeps his ankle from bending, which prevents the weak ligaments from giving way under walking pressure.
Manager Ozzie Guillen said before the game that he's hoping to get Ramirez back as early as Sunday for the finale of the Yankees series. All the tests that Ramirez took came back negative.