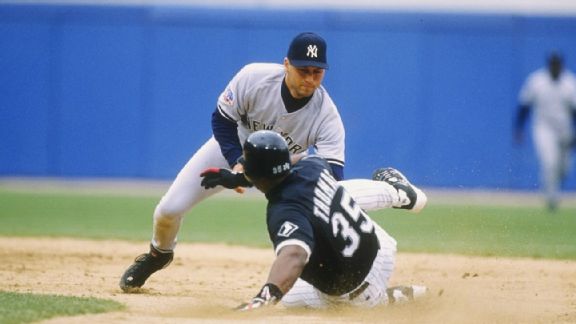 Jonathan Daniel/Getty Images
Future Hall of Famer Frank Thomas and Jeter meet on the basepaths, circa 1997.All season we'll be tracking Derek Jeter as he prepares to play in his final series against each team. Here's a look at his career against the Chicago White Sox, whom the Yankees open a series against on Friday.
CAREER
.299 BA
.360 OBP
168 Hits
13 HR
60 RBIs
18 SB
141 Games
BY THE NUMBERS
• Jeter's batting average against the White Sox is .29893 to be more specific. If he were to get 12 at-bats in this series, he would need five hits to finish with a .300 batting average against them (the Elias Sports Bureau does not round up for players at .2995).
• Jeter is 29 for 81 against the White Sox the last four seasons (.358 batting average). He has a five-hit game and two four-hit games against them, all of which have come in that time. In fact, his last game against them was a 4-for-5 effort on May 25 of this season.
• Jeter's best season against the White Sox was in 2001, when he was 11 for 25 with three home runs and eight RBI in six games, giving him a .440 batting average and 1.422 OPS. That was the sixth-highest OPS by a Yankees player against the White Sox in the live-ball era. The leader is Jeter's former teammate, Darryl Strawberry, who had a 1.861 OPS with five homers in six games against them in 1996.
• Jeter's 1.422 OPS and .960 slugging percentage against the White Sox in 2001 are his highest vs any team in a single season (minimum five games).
• Jeter is 7 for 11 in his career against former pitcher Gary Glover, who allowed three of those hits with Chicago, including a pair of home runs on September 19, 2001. Jeter's .636 batting average is currently his second-best against any pitcher that he has at least 10 at-bats against. The only pitcher he's done better is Jeremy Sowers (7 for 10, .700).
• Jeter is 18-for-21 in stolen base attempts against the White Sox, tied with the Tigers for his best stolen base rate vs any AL team. The 85.7 percent rate is also tied for the third-best by any player with at least 20 stolen base attempts against the White Sox.
• Jeter has four triples in 72 games at U.S. Cellular Field, tied for his most at any visiting ballpark. In fact, it is the same number of triples he has also hit in 367 games at the new Yankee Stadium.
• Jeter has been a double short of the cycle twice in his career. One of those games was against the White Sox on April 30, 2010 (other was vs Rangers in 1998).
The White Sox are one of four AL teams (excluding the Astros) that Jeter has never faced in the postseason. The other teams are the Rays, Royals and Blue Jays.
The Yankees are 83-58 all-time when Jeter plays against the White Sox, a 95-win pace over 162 games.
THEY SAID IT
"We were playing him in Yankee Stadium (in 1996) and we had a left-hander named Mike Bertotti out on the mound. So he came up to the plate, bottom of the first, and the first pitch was about six inches behind his head and he went down. We didn't know who Derek Jeter was. He gets up and just looks at Bertotti for about four, five seconds. Bertotti throws the next pitch and he hit rocket right back to the middle just missing Bertotti's head. I look at 'Wimpy' (broadcast partner Tom Paciorek), and I said "Wimpy we might be looking at something special here.
So right away he had an impact on me and over the years I've got to tell you: He is a baseball icon. There is no question about it. He has carried himself on the biggest stage in sports. He's done it with integrity, dignity, professionalism, and I can't tell you how much we are going to miss him and watching that man play, and his presence. We won't miss his presence because he will be around in some manner, shape, fashion or form. My all-time favorite player is George Brett and Derek Jeter is right there as well."
-- White Sox broadcaster Ken "Hawk" Harrelson
JETER'S BEST MOMENTS
On September 16, 2008, Jeter recorded his 1,270th career hit at the old Yankee Stadium, passing Lou Gehrig for the most career hits there.