The Chicago Cubs appear close to adding outfield depth. A decision on free agents Xavier Nady, Reed Johnson, Jonny Gomes or Jermaine Dye appears imminent.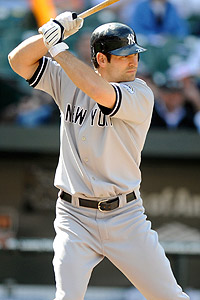 G Fiume/Getty Images
Xavier Nady, who played in just seven games last season for the New York Yankees, has undergone two Tommy John surgeries.
The Cubs want to add some offensive pop to the outfield while solidifying the bench in case of injury.
Nady may be a player with the most upside. After having a second Tommy John surgery on his right arm in 2009, Nady is said to be doing well on his rehab.
Scouting sources told me he's thrown the ball consistently 150 feet, with a month before position players report to spring training.
Nady was said to be asking $5 million to $6 million per season through agent Scott Boras during the Winter Meetings. Six weeks later, the price may have dropped.
The upside for Nady is he has more power than Johnson, and is six years younger than Dye, who turns 36 on Thursday.
Johnson has more ability to play all three outfield positions while Nady and Dye are both home run and RBI threats and can play left, right and first base.
Whoever the choice is, the new outfielder in the mix might platoon in right field with Kosuke Fukudome. Also keep in mind, Alfonso Soriano has missed 125 games in left field over the last three seasons.
Although the Cubs have talked to the agent for Chan Ho Park, it doesn't appear a deal is likely. Park is said to be asking between $3 million and $4 million per season.