To a man, the Hawks liked their start, but not their finish Friday night against the Maple Leafs. From Patrick Kane's opening goal to the final buzzer, here are some things to ponder:
• The fourth line deserved a plus-1 for Kane's goal. They had a great shift, forcing Toronto to ice the puck. Under the rules, the Hawks can change lines, the Leafs cannot. It was a very tired five players that were out there when the fresh legs of Kane stripped the puck from behind Luke Schenn and fired one past Vesa Toskala.
[+] Enlarge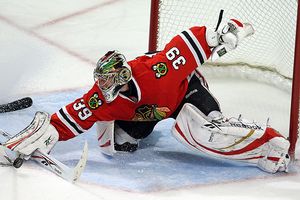 Jonathan Daniel/Getty Images
Goaltender Cristobal Huet didn't like the way he played on the two goals he gave up to Toronto's Phil Kessel.
• Cristobal Huet made some big saves to preserve the game, but he didn't like the way he played the two goals by Phil Kessel.
"Especially the second one," Huet said. "He caught me deep."
• Speaking of Kessel, tons of praise for him by the Hawks and coach Joel Quenneville. Not a lot of shame to get scored upon by him and his great shot.
• The Hawks won 59 percent of their faceoffs. John Madden went 13-3 and Jonathan Toews 10-5. They are second in the league after finishing 23rd last season. Quenneville basically said that domination has helped all facets of their game, especially their top-ranked penalty kill.
• So much for Kane and Kris Versteeg saying it's starting to jell with Andrew Ebbett as their center. He lasted four shifts before Tomas Kopecky took over there. Quenneville juggled the lines more later on, and as he put it after the game, "We'll see how that [second line center] sorts out."
•Troy Brouwer said after the game he was looking for an assist on the empty net to get the Gordie Howe hat trick. He also had a team-high seven hits and Quenneville said "He played great."
•After practice Saturday, Brent Seabrook will host his second annual celebrity bowling outing. It will be held at 10pin Bowling Lounge at 330 N. State St. from 2:30-5:30 pm. The event benefits the Inner City Education Program. Tickets can be purchased at the Lounge.