DEERFIELD, Ill. -- Vinny Del Negro paced up and down the Berto Center floor the same way he always did. He had just wrapped up his daily media session and went back towards the center of the court to observe what was going on. His team was struggling. Questions surrounding his job were becoming more prevalent. And almost every fan you talked to wanted the Bulls to hire a new coach.
A few media members wondered aloud how many days left he had on the job.
[+] Enlarge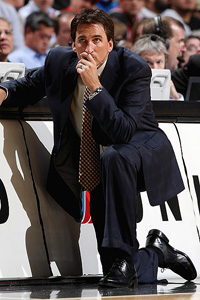 Gary Dineen/NBAE/Getty Images
Vinny Del Negro's teams have shown up in some games, but then appear to shut it down at other points.
Vinny Del Negro's job has been in jeopardy for a while now. The scene I just described unfolded two weeks ago. There have been a lot of ugly losses since then. None bigger, of course, than the 35-point collapse at the hands of the Sacramento Kings last Monday night. Several media members have noted in the past couple days that the Bulls are in the process of looking for a new coach, but ESPN The Magazine's Chris Broussard has confirmed through sources that the team has already decided to fire the second-year coach and is just looking for his replacement.
The news shouldn't come as a major surprise to anyone who has been following the team lately, but it could make for an even more uncomfortable scene at Monday's practice. If the ax finally does fall on Del Negro, there will be many opinions as to why his tenure didn't work out well. But, this quote from Kirk Hinrich may illustrate the impetus for the impending change better than most. When told by a reporter that the Bulls were actually still very much in the playoff picture and the apparent hole the team dug for themselves was actually not that deep (if the playoffs started today, the team would actually be the 8th seed in the Eastern Conference), the veteran point guard responded this way:
"No it's not. But, we expected to come out and play better than this," Hinrich said after practice on Sunday. "That's not so much what our record is, it's how we play through the stretches. That's been the most disappointing thing. So we got an opportunity here, there's still a lot of games left to turn this season around and that's what we're going to try to do."
Del Negro's biggest downfall over the past month isn't so much that the team has been losing -- obviously, it's never a good thing when a team struggles the way his team has -- but it's the way they've been losing. The Bulls have pulled off the rare feat of losing a game by 35 points (vs. Atlanta) and losing another one after leading by 35 (vs. Sacramento). They've been blown out several times and managed to lose to a one-win New Jersey team in the process. Whether Del Negro had the talent to win can be debated at another time. What can't be debated is that the Bulls were consistently inconsistent. They would play hard and then they appeared to shut it down at certain points.
A coach can't control the talent on a roster, but they can go a long way to control effort. If Del Negro does, in fact, lose his job, one of the biggest strikes against him will be that he couldn't always bring the energy out of his players that constantly talked about.