The Bulls haven't been the same since Phil Jackson left and he knows it.
[+] Enlarge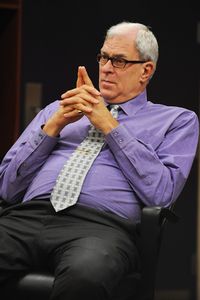 Noah Graham/NBAE/Getty Images
Lakers coach Phil Jackson says the absence of Ben Gordon is hurting the Bulls.
The current Lakers coach, who won six NBA championships during his time in Chicago, couldn't help but take a shot at his former team during this morning's shootaround.
"I looked at the new 'Welcome to the Madhouse' [sign] up there," Jackson said while discussing some of the new additions at the United Center. "I guess that applies to the hockey, right? It's not so much for the basketball end yet."
That wasn't the only change Jackson noticed at the place he used to call home. The banner which honors him up in the rafters has moved a little as well.
"I notice that that one shifted over there, and now I'm going to be sequestered with [former Bulls GM] Jerry Krause in the corner," Jackson said. "That's kind of life as it goes along. I've been waiting to see the Blackhawks put something back up there. They've got a ton of banners, but not a whole lot lately. Hopefully, they'll get one soon here, too."
When a reporter noted that a little more light appeared in front of his banner as compared to that of Krause, Jackson just smiled.
The Hall of Fame coach waxed poetic on several other issues during his 10-minute session with the media:
On the Bulls: "This team is obviously having a bit of a struggle the last couple weeks. They went on that circus road trip and really haven't recovered since."
On missing Ben Gordon: "There isn't really the outside threat that Gordon presents; the kind of scorer, streak scorer that he was. That isn't quite the same."
On the expectations that Bulls point guard has on him to take over the game: "In his second year, this is still pretty much unchartered territory for him. This is something he'll adjust to and he'll adapt at as he'll go along."
On the criticism which Bulls head coach Vinny Del Negro has faced: "I haven't stayed tuned to the press -- I just watch the scores. You always feel bad when a team can't compete, when they're not competing on the level of games coming down the stretch, win or lose, in the last minute or something. That's always tough to see. Especially for the fans here, too. That's got to be tough."