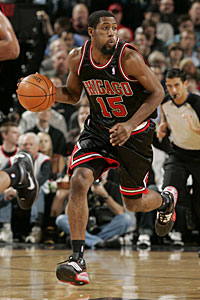 John Salmons has gotten off to a rough shooting start (37.4 percent from the field) while averaging 14.2 points.
CHICAGO -- Brad Miller is not Ben Gordon.
That was painfully clear on Monday night in Milwaukee when the veteran center missed a shot at the buzzer that would have sent the game into overtime. In years past, it was a shot that Gordon almost certainly would have taken.
It was a situation that the coaching staff didn't necessarily have to worry about. When the clock was running down and the game was on the line, Gordon was the man the Bulls almost always turned to. Sometimes he hit the shot, sometimes he didn't, but he was there.
Now he's not.
Now he takes those shots for the Pistons. On Wednesday, the Bulls will get their first look at the man who used to fill the role that they haven't been able to fill.
"It's going to be a different thing," Bulls coach Vinny Del Negro said after Tuesday's practice, while describing how the Bulls are still trying to fill Gordon's late-game shoes. "[Monday night] it was Brad Miller. Derrick [Rose], obviously has done it. John Salmons, Luol [Deng]. It's a collective effort there to do that.
"We haven't had too many close games in a while, so that hasn't been one of the issues. I feel very comfortable and confident with guys. When Kirk [Hinrich come back from an injury], he's capable of doing things. We have enough weapons to be able to make shots at the end. It's just a matter of setting better screens, better spacing, executing. That hopefully will come as we stay together."
Del Negro can hope for all the best, but for the time being, the answer is obvious: The Bulls miss Ben Gordon, especially late in games, and the sharpshooter knows it.
"I don't think so," Gordon said, when I asked him on Wednesday morning if the Bulls had been able to replace him as the go-to guy late in games. "I've watched a few games and at the end, especially with the addition of D-Rose a year ago, there were two guys that could make big, big shots. And now it looks like it's only him.
"John can make big shots and Luol can make big shots, but I think last season, the team relied on me and D-Rose a lot to kind of make plays down the stretch, so it looks like it's just him right now, but I'm sure they'll be fine with the guys they have in place."
For his part, Rose has said repeatedly that he doesn't mind being the guy the Bulls go to down the stretch.
"Definitely," Rose said. "[On Monday against Milwaukee] if their big guy, [Andrew] Bogut, wasn't on me, I was going to take that shot, but he stood in the lane and forced me to pass that ball."
Only time will tell whether Rose ends up filling Gordon's shoes, but as of now, it's clear that the Bulls are still looking for a new guy to step up down the stretch.
"He's definitely a helluva scorer," Noah said on Tuesday, when I asked him if the team misses Gordon. "And somebody we counted on a lot so we just got to make the adjustment. I don't think we're definitely not there yet. And we miss his scoring, but it's not an excuse. We definitely have enough to win basketball games, I think."
The thing is, with Gordon the Bulls didn't really have to think. He was the man they looked to late in games. He is the man they still haven't figured out a way to replace.