CHICAGO --When Ben Gordon left town this summer, a lot people wondered whether John Salmons could fill his shoes. He did just that Wednesday night, pulling off the type of hot shooting streak typified by his former teammate.
[+] Enlarge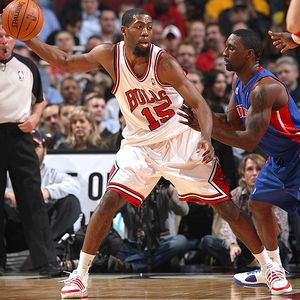 Gary Dineen/NBAE/Getty Images
John Salmons finished Wednesday's game against the Pistons with 22 points.
Salmons paced the Chicago Bulls with 22 points as the Bulls knocked off the Detroit Pistons 92-85, snapping a five-game losing skid in the process.
"It's just good to get a win, period," Salmons said after the game. "It's good to be home. It's good to play in front of our home crowd. It's a good win for us."
After finishing off the circus trip with five straight losses, the Bulls were in desperate need of a victory, and Salmons helped them earn it. He shot 7-for-12 from the field and hit three of his four 3-pointers.
"I thought John did a nice job," Bulls coach Vinny Del Negro said. "He shot it better. He was attacking. He took a couple early jumpers and was off, then he got off the dribble and started attacking a little bit better. We need him to score. We need him to play well. I think his defense picked up a little bit tonight, which was a good sign."
Defense was always the difference between Salmons' and Gordon's games -- Salmons usually played it, Gordon sometimes didn't. And on this night, the Chicago D combined to stop the Bulls' former teammate while the spotlight was fixed in his direction.
Gordon was just 6-for-16 from the floor, leading the Pistons with 18 points.
"I was just trying to be aggressive on him and make sure I just remember him so many times just rising up after that pick-and-roll," Bulls center Joakim Noah said. "So I was just trying to stay there a little bit longer, just making sure that John [Salmons] could recover a little quicker, and I think he did a great job on him tonight."
Salmons got the best of Gordon in Wednesday's matchup. He gave Bulls fans hope that he might be the one who steps up his game a little more and starts patching the scoring hole the team hasn't filled since Gordon left.
But even Salmons wishes the sharpshooter from UConn were still on his team.
"It's better to play with him than against him, I'll tell you that," Salmons said. "I was telling [assistant coach] Randy Brown, talking about having to chase him around all game. A tough guard. He's a good player."
When he wants to be, Salmons proved that he is, too.