Former Chicago Fire midfielder Diego Gutierrez always has thought and acted like a player in everything he does, whether it was during his on-the-pitch days or his current focus in the business world. While a part of Major League Soccer, Gutierrez understood the negotiation side of his profession, making his own contract deals with the Fire or the Kansas City Wizards.
For the past 11 months, Gutierrez has taken the business aspect to a new level through the creation of Global Pro Management.[+] Enlarge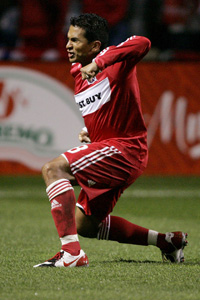 Brian Kersey/Getty Images
Diego Gutierrez played for the Chicago Fire from 1998-2001 and again from 2006-08.
"I considered going different directions with my career -- managerial, coaching -- but I never had a passion for coaching," said Gutierrez, who capped off his playing career with the Fire in 2008. "Being in upper management and the executive side was appealing to me. So I had the opportunity to start something exciting. And as my track record shows, I like to help people and my colleagues. I identify with what they're doing and what the players need. It was a good fit."
With Global Pro, Gutierrez naturally stepped into soccer role quite easily. He is best known for his representation of Fire midfielder Marco Pappa, defender Wilman Conde and former Fire defender Bakary Soumare of Boulogne in France.
"We've been in business for less than a year, and we're becoming a player in this industry," Gutierrez said. "We're bringing a breath of fresh air. We represent a lot of players south of the border at the moment, and more and more people are finding out about what we're doing."
Gutierrez is unique in that he can combine the hard-nosed business aspect with his genuine love of soccer and his role as a humanitarian. In late September, Gutierrez was honored for his sports philanthropy, inducted into the World Sports Humanitarian Hall of Fame for his efforts to prevent some 3,000 daily malaria-related deaths in Africa through his work with Nothing But Nets.
"I think before anything else, I'm a competitor," Gutierrez said of his agent-humanitarian role. "Whether it's on the soccer field or in a board room negotiating a deal, I like to compete. That's a fantastic tool to have. Whether it's business or athletics, having a competitive nature is something that I've always had."
Gutierrez also was appointed as part of the Presidential Council for Physical Fitness and Sports by former President George W. Bush. The committee includes a bunch of familiar sports names, such as New York Giants quarterback Eli Manning, NASCAR racer Bobby Labonte, gymnast Mary Lou Retton and figure skater Michelle Kwan. Within this group, they approach issues such as child obesity, for example, and discuss after-school programs and other active methods to implement at local, regional and national levels.
Gutierrez is on the council through May of 2010.
"It was pretty wild," Gutierrez said of his inclusion to the council. "Being in philanthropy and athletics, I had the right combination and right resume to be a part of it. I'm Latin American. I was not even born here [native of Colombia], and 16 years ago I was not even speaking the [English] language. So to sit at the White House with other famous athletes, it was quite an experience."
Gutierrez has had the pleasure of meeting President Barack Obama, but his administration has not been a part of the council just yet. There are a few issues a bit higher on Obama's agenda.
"As a council we have not been active, but I'm sure we will be with the turn of the year," Gutierrez said.
Gutierrez at Turkey Bowl: Section 8 Chicago, the Fire's supporters' association, is holding a Turkey Bowl event this Saturday, from noon to 3 p.m., at Schubas Tavern and Grill, 3159 N. Southport Ave., in Chicago. Gutierrez will be on hand, and he will be signing DVD copies of his two favorite Fire matches while he was a member of the organization. If you purchase both DVDs ($10 apiece), half of that will be donated to Section 8's $1,500 pledge in Gutierrez's name to Nothing But Nets, in honor of him being named to the World Sports Humanitarian Hall of Fame.
Stay tuned for the second part of my interview with Diego Gutierrez, focusing on the current Fire squad and their busy offseason.