BRIDGEVIEW, Ill. -- The Chicago Fire pieced together a strong core of players for the 2009 season, and the team went on a playoff run that ended prematurely once again in the Eastern Conference Final.
That group's cohesiveness was a huge reason why the Fire even managed to make it to the postseason amid some heavy personnel changes to offset injuries. But looking into this offseason, there is the potential that more than half of their 2009 starters could have a future outside of the Fire in 2010. That could change if ownership decides to stick with some of the same personnel and fill a few other voids.
[+] Enlarge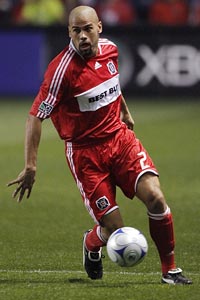 Brian Kersey/Getty Images
Chicago Fire defender C.J. Brown says he hopes to be back with the team next season.
"I've never dealt with this side of it, but they have a lot of contract issues," Fire defender and team captain C.J. Brown said Tuesday. "So that makes my decision on what I'm going to try to do for next year a lot more difficult. You want these guys to be back. You've been playing with them and you know what they're about. It's tough bringing in new guys and having to readjust, teach them values of what playing for the Fire is about. These guys know what it's about. You hope that they stick around and that the club does something to keep them here."
Defender Brandon Prideaux is retired and he starts up his assistant coaching duties with the University of Washington at the start of the new year. Midfielder Cuauhtemoc Blanco rejoins Mexican second-division Veracruz. Midfielder/forward Chris Rolfe starts his new role with Danish club Aalborg. Earlier in the season defender Bakary Soumare took off for Boulogne in France. It's possible defender Wilman Conde's future could also be abroad.
Then you have midfielder Marco Pappa, whose loan from CSD Municipal is up. Gonzalo Segares is out of contract. Decisions need to be made for the return of Brown and forward Brian McBride. And head coach Denis Hamlett's contract is up.
Here is what some of the Fire's veteran players have to say about this hectic offseason:
Defender C.J. Brown:
• On his future with the Fire, or retirement: "I don't know what I'm going to do, to be honest with you. I'm not going to say I'm retiring right now. I'm not going to say I'm playing next year either. So I don't know. It all depends on what the organization's decisions are and what they make for the future. I just want to be in the best place that would be a good environment for me to play. Obviously, I'm not a young guy coming up in this league anymore. It's more about just trying to win. I want to be in an environment like that. Hopefully this team can provide that for next year. And if they can, that's a very good chance of me being here -- if they want me. It's all up to them to be honest with you. They get to make that decision."
• On latching onto another MLS team: "I would never say 'no' to it. I don't want to cut that option out, but you never know. I was born here [with the Fire organization]. It would be tough to go somewhere else. Nowadays, this league has been about changes. They always shift guys here and there. I've just been one of the very lucky guys who has been in one place the whole time. I don't foresee myself going anywhere, but I would never say that's not an option. With this league, every year it's an option. There's nothing guaranteed about contracts. So it makes you keep your bags packed for whatever option that comes up."
Goalkeeper Jon Busch:
• On bringing back C.J. Brown: "If you look at C.J. and what he did this year, and the minutes he played, and the quality he played during those minutes, he's got a lot more left in the tank. He's not ready to go, and I don't want him to go. He's our captain of this organization. He's the right guy to be the captain. He's been there; he's done it all. He has a lot left. I'm praying that they sign him back. If anybody who matters upstairs has asked me, that's the first person that I want signed back, for sure."
• On bringing back head coach Denis Hamlett and his staff: "My personal opinion is they should give him a new contract and they should give his staff a new contract because they've done a tremendous job. I've always talked very highly of [goalkeeper coach] Daryl [Shore] because I've worked hand-in-hand with him. For three years I think we've had an awesome relationship. I want him back next year and I want the whole staff back. I think they've done a great job, but I also think they're hungry like the players are to make that next step [in the playoffs], and I think it's only right that we do it together."
Forward and Arlington Heights native Brian McBride:
• On his future with the Fire: "I'm not going to be going anywhere [else] in MLS, I can say that for sure. But we'll see what happens with the whole aspect ... You never know until something's done. I'm sure people could tell you plenty of stories about different things. The one thing I've learned in the past is to never think anything's done or not done until it's on paper -- or not. Or even if it's on paper."
• On a move back to Europe: "For me and my family that would be a pretty difficult move. We'd have to think about our livelihood of course. I would say that would be pretty hard to do."