BRIDGEVIEW, Ill. -- The Chicago Fire's offense and Cuauhtemoc Blanco earned the spotlight Saturday night as they advanced past the New England Revolution and into the Eastern Conference final against Real Salt Lake. They had to post a two-goal swing and came through.
[+] Enlarge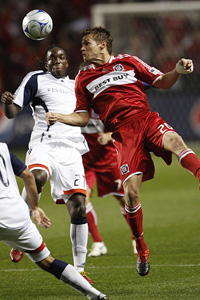 Brian Kersey/Getty Images
The Fire's Brian McBride and the New England Revolution's Shalrie Joseph go for the ball during the first half of Game Two of the Eastern Conference Semifinals at Toyota Park.
But the Fire defense also stepped up and held the Revs scoreless en route to a 2-0 victory. And go figure, the defensive back line was a little different.
At left back, Daniel Woolard stepped in for Mike Banner, who started the first game of the East semifinal series but struggled in several key moments during the Fire's 2-1 loss at Gillette Stadium. On Saturday, the Revs offense created some chances against Woolard early on, but for the most part New England was held in check.
The left back position is just one slot in which there has been a completely different starter in each defensive position this year. The one constant for every league game has been Fire goalkeeper Jon Busch. In regular-season play, Chicago put together a similar defensive performance in comparison to last season, and the 2008 and 2009 versions of the Fire advanced to this stage of the playoffs.
That's pretty remarkable for this merry-go-round of a defensive group.
"It's amazing -- and I didn't realize this till after the [regular] season -- that our stats are pretty identical to where we were last year," goalkeeper Jon Busch said. "And last year we had a pretty even group. We didn't have a lot of injuries. We had the same guys out pretty much every game each week.
"This year, we were decimated by August. But it speaks volumes of the guys in front of me that we can end up with 10 shutouts just like we had last year, one more goal than we gave up last year. Just a total team effort. We've got a tremendous group in this locker room. I'm just so happy to be a part of it."
While a constant defensive core would be a boost, Busch approaches the frequent changes as an opportunity to prove as a group that they can continue achieving the same positive results.
"It's a challenge, and it's fun. If you're younger, maybe you get a little nervous about it," Busch said. "When you're older, you spin it the right way and you say, hey, this is a challenge.
"This is a challenge to get a Danny Woolard on the same page with the rest of the guys. He's been out for a while. [Saturday night] I thought he did well. Before that it was Mike Banner who never played in the back before in his life. I thought he's done tremendous. For me, it's just a challenge to see if we can pull these guys together somehow and do what we need to do. I can't be happier or prouder of these guys. It's fantastic."
Before the second leg of the East semifinal, Busch had this to say about this season's Fire: "For what we've dealt with on and off the field this year, I take my hat off to the players. Because we've been through a lot, and for us to still be standing and standing where we are, I'm very proud of the boys, especially the young boys who have come through who were unproven in those situations."
They still are standing, and are one victory away from reaching the MLS Cup in Seattle.