CINCINNATI -- It was almost 30 minutes before Bengals quarterback Andy Dalton emerged from the showers after the team's 13-9 loss to the Texans on Thursday night. By the time Dalton got to the podium to speak about the loss, he looked weary.
Earlier, coach Marvin Lewis had sat in the same chair. He looked up at the ceiling momentarily, sighed, and began answering questions about why the offense hadn't scored a touchdown in two games.
"Our frustration crept in tonight," Lewis admitted.
He added: "Either we have to do it better, do it with different people or do it a different way. We're not going to wing it."
Inside the locker room, players (at least the ones that hadn't already made a beeline for the exit) talked about the loss with barely veiled anger. Tight end Tyler Eifert said it was "not acceptable" to play the way they have been.
"Really frustrating," said wide receiver Brandon LaFell. "We're better than what we're showing, man. ... We've been struggling on offense, getting to the red zone. Can't get a first down. Can't put points on the board, just coming up with field goals, turning the ball over. We've been horrible. We've been holding our team back. Because defensively, we've been great. [Good enough] to win both of these games."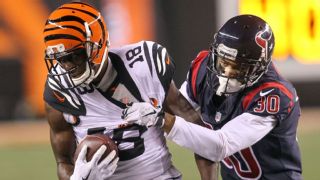 Wide receiver A.J. Green sat at his locker with his uniform and pads still on, trying to keep the frustration out of his voice. The normally mild-mannered Green was losing the battle.
"We're not scoring enough points for our defense. We're not getting them off the field enough," Green said. "They're playing their butt off, while we're playing like s--- right now.
Green was targeted eight times in the loss, catching five passes for 67 yards. Fifty of those came on a deep ball from Dalton at the end of the first quarter. Green made the catch with three defenders in his face. It was one of the Bengals' only offensive signs of life.
Green barely saw the ball again and was targeted only once in the fourth quarter, even though the Texans were down both of their starting cornerbacks by that point. Green said nothing changed in what he saw in the defense after that, but it wouldn't have mattered.
"That catch, there were three dudes on me," Green said. "It doesn't matter, it doesn't matter. Whenever the ball is coming, I'm going to try to make a play."
Green said it wasn't in his nature to demand the ball, but said, "Some way, somehow, that ball should've been mine; that's my mentality."
Said Green: "Andy missing balls here and there, we can live with that. When it's crunch time, though, we have to get our playmakers the ball. It's as simple as that."