CINCINNATI -- Cincinnati Bengals wide receiver A.J. Green is the quiet, lead-by-example type. In seven seasons, he's rarely aired his grievances. If he's unhappy, it's unlikely many people are going to know about it.
So when Green voiced his frustration with the offense after the Bengals failed to score a touchdown for the second straight game, it probably made an impact.
After the second straight game, he sat at his locker in full pads and faced reporters. He didn't raise his voice or yell, but frustration simmered from him. In his own quiet way, he admitted he was unhappy with the offense and his role in it.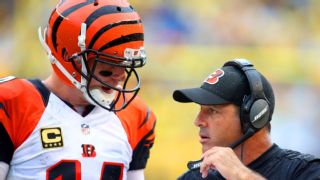 When the face of the team is that visibly frustrated, a change is needed. Offensive coordinator Ken Zampese had to go.
The Bengals fired Zampese on Friday after they lost 13-9 to the Houston Texans on Thursday night.
It could not have been easy for the organization to make that move. In 50 years, the Bengals have never fired a coordinator during the season.
Zampese was a loyal soldier in Cincinnati for 15 years. He was passed over twice for the offensive coordinator job (Jay Gruden and then Hue Jackson got the nod instead) before finally being promoted in 2016. But almost immediately it was clear how much the team missed Jackson, who took the head-coaching job in Cleveland.
In the Bengals' nine losses last season, they didn't score more than 20 points, and their scoring offense plummeted from the year before. In Zampese 's first season as offensive coordinator, it was easy to disguise the cracks with excuses.
They missed Mohamed Sanu and Marvin Jones and had to supplement them with young receivers. The offensive line allowed 41 sacks. They didn't have Tyler Eifert, Giovani Bernard and Green for a combined 20 games.
One year later, the offensive line is still struggling and the receivers are still young. But the other excuses aren't viable. The Bengals were hyped up all summer as a team in line to have one of the best offenses in the league, but instead they've become one of the worst.
The three-headed monster of Joe Mixon, Bernard and Jeremy Hill would give them versatility. Tyler Boyd, Cody Core and Brandon LaFell had a year in the system. John Ross would draw defensive coverage away from Green and open up the passing game with his 4.22 40-yard dash speed. A healthy Eifert would be a red zone threat again.
Absolutely none of that has happened.
There's a reason the Bengals haven't come up with answers as to why they've struggled so much this year. It's because it doesn't make any sense. Quarterback Andy Dalton appears to have regressed, which shouldn't be happening in his seventh season.
Dalton will turn 30 this season. For comparison, Drew Brees and Peyton Manning each won their first Super Bowls at that age. Tom Brady led the league with 50 touchdowns at 30. Dalton should be in the prime of his career, not taking a step backward.
The Bengals are too talented to be struggling so much on offense. Aside from Mixon and Ross, almost every player on offense has been in the system long enough for excuses to ring hollow.
The Bengals simply have failed to get the most out of their players to start the season, and that responsibility largely falls on the coaching staff.
The Bengals made a difficult but necessary move. If they didn't change something, they risked losing the locker room.
Firing Zampese isn't a magic fix, and nobody will know for a week if the team will be sparked by the change. But it shows that the Bengals are committed to doing whatever it takes to move this team forward instead of just spinning their wheels.