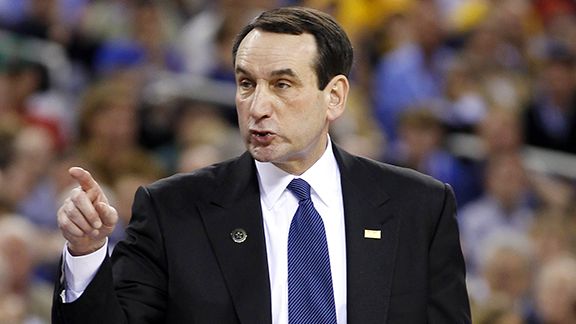 Bob Donnan/US Presswire
Duke coach Mike Krzyzewski has lived for many years with the realization that many fans hate the Blue Devils but he has turned such feelings into coaching moments.
INDIANAPOLIS -- Anyone who read author Will Blythe's classic college hoops book To Hate Like This Is To Be Happy Forever not only gained an understanding of the UNC-Duke rivalry at large but understands the level of antipathy so many college basketball fans have for Mike Krzyzewski. He is not a well-liked man. Many would admit a grudging respect, sure, but the on-court antics, the occasional sneers, and the corporate-pitchman persona have made Coach K public enemy No. 1 for years now.
The thing is, Krzyzewski doesn't care. Not one bit. He's perfectly happy being hated, perfectly happy for his team to be the bad guys, for Duke to face outward against the world. When Blythe finally sat down with his sworn enemy for the book, he found Coach K to be likable, but more than anything he found him completely willing to twist the hatred for his program into an attitude that gave his players an edge. From Blythe's excerpt, recently republished at Esquire:
"Ohio," Krzyzewski said. "Let's say at Ohio State that we did what we have done at Duke. There would be statues. There would never be anybody looking for anything wrong with what you did. It would be a different mind-set from the one we have within this community."

He was having work done on his house at the moment. Most of the workers were North Carolina and North Carolina State fans, he said. "People don't understand the magnitude of the isolation here. We have to do without that support. And actually, there are eyes close on you, looking at you, not wanting you to do real well. It's toughened us up. We're never going to lose because we have too many people patting us on the back. Never."
Coach K repeats this sentiment at his news conference Sunday, revealing his belief that Duke, because it is a private school wedged into Tar Heel country, was cloistered, embattled, constantly stuck in a foreign land, bereft on all sides by people more than willing to take shots at Krzyzewski and the program.
"I just think it's really easy to talk about not liking us because we're a private school," Krzyzewski said. "We're not a state. We don't have a state press. You know, people wouldn't take the shots at us that they do if we were a state school because the people of that state wouldn't like it and there would be a filter there. And there's no filter for us.
"So if we're gonna be really good, we're gonna get that because there's nobody to hold anybody accountable before you even start talking," he continued. "It's just true. That's just the way it is, and I'm okay with it. I think it helps us keep our edge."
This is interesting in and of itself, but it's especially fitting for Monday night's matchup with Butler. Who besides Coach K, his players, their families, and Blue Devil fans want to see Duke, Goliath, stamp out the best David this NCAA tournament has ever had? No one. Literally no one. As Pat Forde wrote Saturday night, Butler-Duke might the most one-sided rooting scenario since the 1994 Harding-Kerrigan Winter Olympics. In Coach K's opinion (a somewhat delusional one, given the program's resources and media pedestal) it's always been Duke against the world. This year, it's actually true.
What's strange is that Krzyzewski doesn't seem to mind all this hate. Matter of fact, he likes it. No wonder Duke is so good at this.