The NCAA tournament selection committee surprised some when it rewarded Oregon with the fourth No. 1 seed over Villanova and Michigan State, which defeated Purdue in the Big Ten tournament championship game on Sunday. But Oregon's 31-point win over Utah in the Pac-12 tournament title game on Saturday was impressive. The Ducks are the real deal.
But don't confuse "top seed" with "easy path." That's not the case. Not in the West Region. The Ducks could run into a hot St. Joseph's squad in the second round. Baylor or Duke could interrupt its path to the Elite Eight, where the Ducks could face an Oklahoma squad that flirted with a top seed all season.
The big concern about Oregon is on the defensive end. Only one team since 2002 has won the national championship after finishing outside the top 20 in KenPom.com's adjusted defensive efficiency rankings (North Carolina was 21st in 2009). Right now, Oregon is ranked 50th. Yes, the Ducks are strong. But this is a tough group.
Five players to watch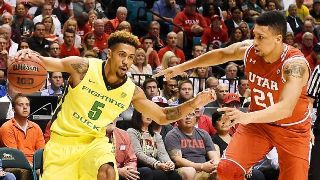 Tyler Dorsey (Oregon): Dorsey matured in the final weeks of the season for an Oregon team that snatched a top seed and won the Pac-12 tournament with a brutal 31-point win over a good Utah squad. In the latter matchup, Dorsey, a member of the Greek national team in the Under-19 World Championships in Crete last summer, finished with this dazzling stat line: 23 points, 9 rebounds and 3 assists. The 6-foot-4 freshman, who shoots 43 percent from the 3-point line, is making noise on NBA mock draft boards. Right now, however, he's a two-way catalyst for an Oregon team that hopes to reach Houston for the Final Four.
Buddy Hield (Oklahoma): If you don't know Hield's name, then you haven't followed college basketball this season. It's OK. We'll help. Here's the simple version: Hield is arguably the best player in the country, and he has blossomed into an NBA lottery pick for a smart pro team. The details of the 6-foot-4 guard's season are mesmerizing: 25.0 PPG, 5.6 RPG, 2.1 APG, 1.2 SPG, 89.5 percent from the charity stripe, 46 percent from the 3-point line. He's the co-front-runner, along with Michigan State's Denzel Valentine, for the Wooden Award, which will be announced next month.
Taurean Prince (Baylor): The 6-foot-7 forward led Baylor to a double-digit win over rival Texas in the Big 12 tournament quarterfinals after finishing with 24 points, 13 rebounds and four assists. Prince (15.5 PPG, 6.1 RPG, 1.3 SPG), an NBA prospect, helps Baylor spread the floor with his inside-outside game. Baylor's coaching staff continues to encourage the talented vet to play with the aggression he demonstrated in the conference tournament. He's a terrible matchup for most opponents. It's just not easy to find another 6-7 guy with his mobility, athleticism or versatility.
Brandon Ingram (Duke): The 6-foot-9 first-year forward weighs 200 pounds when he's carrying a 10-pound dumbbell. But don't let the slender frame fool you. He's a relentless beast with a unique skill set. Duke, a four-seed, isn't Duke this season. But Ingram (16.8 PPG, 6.8 RPG, 1.4 BPG, 1.1 SPG) and Grayson Allen could carry the Blue Devils to the second weekend. It wouldn't be the first time a freshman led Duke deep into the NCAA tournament.
Wes Washpun (Northern Iowa): Listen. Google this young man. First thing you need to know: He has the coolest hi-top fade in college basketball. But that's not more important than his tell-your-friends-about-him game. Washpun (14.3 PPG) scored 21 points in Northern Iowa's win over North Carolina in November (when Marcus Paige was sidelined by injury). He scored 28 points when the Panthers defeated Iowa State in December. If you're looking for an under-the-radar star, focus on Washpun. He loves the spotlight.
Dark horse
Northern Iowa: The Panthers endured a horrible 5-10 stretch from Dec. 5 through Jan. 23. Then the same squad that defeated Iowa State and North Carolina found its mojo again in the final six weeks of the regular season. Since Jan. 23, Northern Iowa has lost just one game (59-56 at Loyola-Chicago). They're a good 3-point shooting team (37.2 percent, 56th nationally) that doesn't waste possessions (17th nationally in turnover rate, per KenPom.com). Plus, they will enter the NCAA tournament with as much confidence as any team in the region. The Panthers are hot right now, and they've already defeated opponents blessed with the same level of talent as the top squads in the West Region. They might need wins over Texas and Texas A&M to reach the Sweet 16. That's not as an easy path, but Washpun's squad could ruin brackets with a run in this region.
Upset alert
Green Bay over Texas A&M in the first round: Yes, we understand this is not the Green Bay Packers against Kevin Sumlin's football team. But the joke is on you if you're laughing at this possibility. Texas A&M (12th in adjusted defensive efficiency, per KenPom.com) built its run to the NCAA tournament on its defense. But the offensive production during a troubling 1-5 stretch worried Aggies fans around the world. Enter the Green Bay Phoenix. Valparaiso, the nation's No. 2 squad in defensive efficiency, could not stop Green Bay in the Horizon League tournament semifinals. The Phoenix scored 99 points in that overtime win. That's 1.19 points per possession. Any team that put together that offensive performance against that defense should not overlooked.
Matchup we'd love to see
Oklahoma-Duke in the Elite Eight: Nothing wrong with hoping the potential Wooden Award winner, Hield, provides another round of breathtaking performances on a deep run to the Elite Eight, where his Oklahoma squad could meet Allen and Duke. Plus, Lon Kruger -- the only coach who has led five different teams to NCAA tournament victories -- against Mike Krzyzewski would feature an impressive blend of X's and O's with a ticket to the Final Four on the line.