SALT LAKE CITY -- The Northwestern coaches had done a pretty good job of convincing every player on the team that their trek to Salt Lake City for the NCAA tournament -- the Wildcats' first in the 78-year history of the program -- was a normal road trip.
But then redshirt senior captain Sanjay Lumpkin walked into the locker room before the game and saw the circular blue NCAA patch on his Northwestern uniform.
"It hit me," Lumpkin said.
It hit him that not a single player who had worn a Northwestern jersey had ever played in one with that patch, that no Northwestern player had ever stepped on the NCAA tournament floor and that he was about to become one of the first.
The Wildcats had soaked in their 78-years-in-the-making Cinderella moment on Selection Sunday as they hosted a watch party and passed out T-shirts that read: "It's time." The country had made them March's darling before the tournament had even begun.
But it was their goal to not be a darling, to prove that their rise -- which seemed meteorically fast to no one who had been paying attention, and slow and steady to those who had followed the program since Chris Collins became coach in 2013 -- was going to be sustained.
"It's nice to be invited to the dance," Collins said. "You want to stay a while."
Especially after waiting 78 years.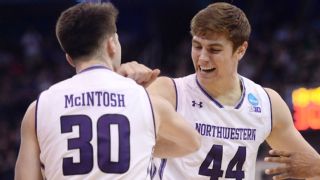 And for most of the game, it looked as if the Wildcats would extend their road trip.
They led by as many as 15 points in the second half as the offense flowed through junior guard Bryant McIntosh, who caught fire and finished the game with 25 points.
But Vanderbilt caught a fire of its own, knocking down 3-pointers and chipping away at Northwestern's lead. And with 18 seconds to go, Vandy had taken a one-point lead on a Riley LaChance layup, looking to cut Northwestern's trip short.
The Wildcats had been on the losing end of so many games this season when they had led until the very end -- they had led Butler, Notre Dame and Indiana with less than a minute to go before losing to all three -- and it looked as though that scenario would lead to their season exit.
But, as is prone to happen in March, madness happened.
As McIntosh was pushing the ball up the floor after LaChance's layup, he was fouled intentionally by Vanderbilt's Matthew Fisher-Davis.
It was a play so odd that McIntosh thought that maybe he was the one confused, that maybe Northwestern actually had been up by a point, not down one?
The players were so thrown off that Lumpkin asked opposing Vanderbilt players why Fisher-Davis had committed the foul -- not as a taunt but as a legitimate question.
The boneheaded play gave McIntosh a chance to put Northwestern back in the lead and on track to making even more history. He calmly swished the free throws with 14.6 seconds left for a 67-66 lead. After Vanderbilt missed a 3-pointer, Northwestern hit another free throw and its 68-66 win was secure.
And with only two seconds left before that history was officially made, 20 rows up opposite the Northwestern bench, a purple and white Cubs "W" flag began to fly. It's a well-known emblem to any Chicagoan, the flag that flies above Wrigley Field (and in numerous homes) after any Cubs win.
A few months earlier, it had become the symbol of the Chicago Cubs breaking their own 108-year drought. Now Northwestern had joined that club.
Not only had the Wildcats arrived to the dance, but they also had earned a W.
And a chance to wear the NCAA patch one more time.