A year ago, Memphis entered the offseason so desperate to end the Josh Pastner Era that the school paid its former coach $1.25 million to leave -- and avoid the $9.3 million the program would have owed him had he been fired.
He landed at Georgia Tech, a program without an NCAA tournament appearance since 2010, on a contract that will pay him $11 million over six seasons.
"I loved my time [at Memphis]," Pastner said at his introductory news conference. "I had a great experience there, and [I'm] really looking forward now to taking what I learned from there moving into here at Georgia Tech."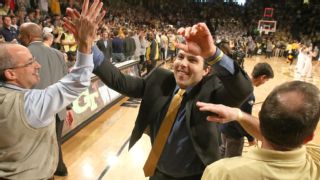 They seemed good for each other: Pastner, a promising young coach who never quite reached the post-John Calipari expectations of the Memphis fan base, and Georgia Tech, a program in a city packed with talent that had landed everywhere but the Atlanta-based campus in recent years.
Now they seem perfect together. After one season, Pastner has turned Georgia Tech into a program on the rise, while his former program wrestles with a postseason implosion under Tubby Smith.
Pastner won ACC Coach of the Year honors over Roy Williams, Leonard Hamilton, Rick Pitino, Mike Krzyzewski and a fleet of veteran coaches after a 21-win season that included a second-place finish in the NIT and wins over VCU, North Carolina, Florida State, Notre Dame and Indiana. For a stretch, Georgia Tech even entered the at-large conversation with a roster of unheralded athletes who racked up significant wins and made Georgia Tech a threat to end the school's NCAA tournament drought.
Ben Lammers, a senior next season, earned ACC Defensive Player of the Year honors after averaging 14.2 points, 9.2 rebounds, 3.4 blocks and 1.2 steals per game for the Yellow Jackets. He finished second to Wake Forest's John Collins in the most improved player race. Lammers also anchored a defensive stronghold that finished sixth in adjusted efficiency, per KenPom.com.
Tadric Jackson (12.1 PPG), also a senior next season, finished second to Virginia Tech's Seth Allen on the league's ballot for sixth man of the year.
The greatest surprise of Pastner's first season? The performance of Josh Okogie in his first season of college ball. He didn't crack ESPN's list of the top 100 recruits in his class, but he outplayed the bulk of his freshman peers by averaging 16.1 points, 5.4 rebounds and 1.3 steals. He also made 38.4 percent of his 3-pointers. He could evolve into an All-ACC performer as early as next season.
Lammers, Jackson and Okogie will make a strong nucleus for a Georgia Tech squad that should improve.
Pastner will add forward Curtis Haywood II and point guard Jose Alvarado, a pair of four-star prospects. He also hopes 6-foot-8 enigma Moses Wright, who failed to catch the eye of most high-major programs, will blossom into a contributor.
Plus, Georgia Tech is a finalist for Marietta, Georgia, native Jordan Tucker (40th in the 2017 class, per ESPN.com.), the kind of young star who could ignite an offense that ranked 259th in adjusted efficiency last season.
Pastner took command of a program that had lost its top four scorers entering last season. In 2017-18, he'll return his top three scorers. But he needs a few more bodies.
The team ended the season with four available scholarships and added another when freshman Christian Matthews decided to transfer. Pastner has to turn those full rides into productive talent that will help his team take the next step in a year.
Georgia Tech won 17 home games last season. Now, the program must duplicate its intensity at home for when it leaves campus.
Still, McCamish Pavilion rocked in Pastner's first season. And it will again if Georgia Tech continues to improve.
But let's go back to the beginning. Pastner came to Atlanta as someone who had fallen short. Now he's rebuilding a Georgia Tech program that's in far better shape than the mess he left behind in Memphis.
It seems like everyone involved with the Georgia Tech deal made the right decision.