HARTFORD, Conn. -- Prior to tipoff, Connecticut associate head coach George Blaney said it was as if Jim Calhoun never left.
He returned for Thursday's practice after missing seven games to treat a temporary medical issue that he has chosen not to disclose.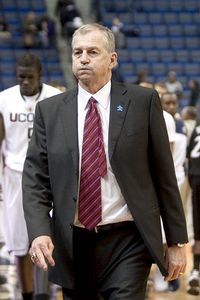 AP Photo/Thomas Cain
The return of Connecticut coach Jim Calhoun to the sidelines Saturday did little to help the reeling Huskies, who lost to Cincinnati, 60-48
Later Saturday afternoon, Calhoun would say that the players gave a "terrific effort" in the two days of practice prior to Saturday's game against Cincinnati.
Calhoun had no reason to believe that the Huskies would ultimately give him the worst performance and execution of the season -- or for that matter, in years.
But they did. And the 67-year old, two-time national championship winner and Hall of Fame coach was at a loss to explain the complete meltdown of a team that went from beating then top-ranked Texas three weeks ago to turning in an awful performance in a lackluster, feeble 60-48 loss to Cincinnati.
The loss leaves the Huskies at 14-11 overall, 4-8 in the Big East and heading toward the NIT or CBI with six games remaining, starting with a road game at Villanova Monday.
"I came back because I had a job to finish," said Calhoun, who was as disgusted after a game as I've seen him in the past decade. "I came back because I want to coach. But this leaves me befuddled."
Calhoun said he never questioned the team's heart, but had to challenge the effort. The Huskies went eight minutes in the second half with only three points. The 48 points was the lowest offensive output for the Huskies since scoring 46 in a six-point win over Villanova in 2002.
"We didn't compete the way we need to compete in this league," Calhoun said. "There was a lot on the line for both teams."
Calhoun used the word "embarrassed" multiple times.
"He's right," said Connecticut guard Kemba Walker. "It is embarrassing. Same thing he told y'all, he told us. He was embarrassed."
When I asked Calhoun how he could fix the problem in the final six games, he paused for eight seconds.
"I was looking down the bench and I didn't see a lot of answers," Calhoun said.
Calhoun was back to being himself immediately after the tip. The crowd gave him a standing ovation at the XL Center but poor play in the first few possessions led him to pull starters Walker, Ater Majok and Alex Oriakhi as he searched for the right combination. Walker's two first-half fouls limited his minutes. Later, Calhoun didn't seem to have an issue with his effort. But as for his team as a whole, getting dominated on the boards by 14, missing 12 3s, nine free throws and committing 16 turnovers added up to constant frustration.
"There aren't a lot of answers," Calhoun said. "It's not like we can say 'let's run more inside offense'"
Calhoun said he was disappointed by the reaction the Huskies had to getting "hit in the face" to start the second half.
"Clearly this is a low point in the season," Calhoun said. "The type of effort we gave is not the type of effort you need to win games."
Calhoun didn't expect a different team to suddenly emerge now that he was back on the bench. The Huskies have been flawed all season, going 3-4 in his absence and stumbling around since the New Year.
"I didn't expect the team to be something different than what it was," Calhoun said.
Connecticut athletic director Jeff Hathaway said before the game that Calhoun's contract situation had nothing to do with his absence. The two sides have agreed in principal on a new four-year contract but neither has signed the deal. Calhoun's current six-year contract expires on June 30.
Meanwhile, the road win at UConn gave Cincinnati some separation in the league standings and gave it another quality win adding to victories over Vanderbilt and Maryland at the Maui Invitational. The Bearcats defended and rebounded well and were able to close out a game, something they were unable to do in losses to Xavier, Pitt and Gonzaga.
"There's no doubt this is a huge win for us," said Cronin, whose Bearcats are now 15-9, 6-6 in the Big East. "Separation is going to happen amongst all of us in the middle and it will happen in the next two weeks."
The Bearcats have games remaining at South Florida, home to Marquette and DePaul and finish with a brutal stretch that sees them visit West Virginia, host Villanova and visit Georgetown.
Cronin claims the Bearcats will end up having one of the toughest schedules in the country.
"When you have 16 teams, 11 are going to be in the conversation every year and four or five will be on the bubble," Cronin said. "We've got to finish and get people confident in what type of team we are. There's no doubt this was a huge win for us and gets us in a better position."