New Mexico is no longer a fluke, doing something in the Southwest that wasn't worth paying much attention. The Lobos have done something previous New Mexico teams couldn't do the past 15 years –- win a conference title on the road.
New Mexico won the WAC in 1994 at BYU. The Lobos won at least a share and the likely outright title of the MWC with a win at BYU Saturday. New Mexico swept BYU this season, holds a one-game lead on the Cougars and ends the season at home Wednesday against TCU.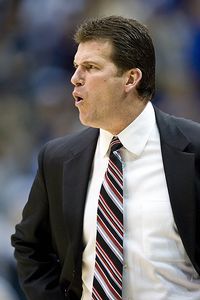 Ethan Miller/Getty Images
New Mexico coach Steve Alford is continuing his winning ways with the Lobos.
And to put the Lobos' conference title in perspective –- they lost their first two conference games.
"We've won 13 in a row in this league and done some amazing things this season,'' said New Mexico coach Steve Alford by phone from Provo, Utah, after the 83-81 victory. "We've got one senior.''
Alford has developed some star power on this team, led by Darington Hobson who blocked a Noah Hartsock shot that would have tied the game with one second left.
"He's very long, athletic and we were able to make key stops,'' Alford said. "It was a great block and then a great recover.''
The game ended in a bit of minor controversy. BYU's Jonathan Tavernari was upset over apparently being elbowed. He then had words with Alford in the handshake line.
"I was telling him he had a phenomenal year and career at BYU,'' Alford said of the senior. "He was obviously upset and had words for me. But he came into the locker room afterwards and apologized. It was a class act. He's a great kid and it was senior day so I felt for him. I understand what happened. He's one of my favorites in the league.''
The Lobos' win over BYU snaps the Cougars' run of three-straight MWC tournament titles. The Lobos, meanwhile, are going into the NCAA tournament in a few weeks as a team that can win. Fans in Albuquerque and across the state haven't had this much confidence in a team advancing since Norm Ellenberger had his collection of Lobos in the top five in 1978.
The Lobos are 6-0 against ranked teams, winning a record seven conference road games and a major neutral court win in Houston against Texas A&M in December. UNM also knocked off Pac-10 champ Cal at home and beat Texas Tech and Dayton at home when both schools were peaking.
"We've been able to beat a lot of different styles,'' Alford said. "You know how the NCAA tournament is and as far as advancing, once you get in, it's about seeding and matchups. Everyone said we couldn't play teams with a dominant post player since we're not very big or deep but we've been able to beat some of those teams.''
New Mexico fans are as passionate as any in the country. They may not match Kentucky, North Carolina, Kansas or Indiana in numbers, but the fans across the state follow this team religiously. The anxiety of the Lobos being a traditional bubble team isn't relevant this season. New Mexico enters the Mountain West Conference tournament in Las Vegas in two weeks as the No. 1 seed and in the NCAA tournament as a possible No. 3 seed. The Lobos were last that high in 1997, beating Old Dominion in the first round and then losing to Louisville in the second.
"Our guys know we're in,'' Alford said. "The last two years, even though we won (a share) of the league but we felt like a bubble team and then lost the first game (and didn't get into the NCAA). Now we're going to be able to relax, knowing we're already in as league champ as the No. 1 seed. There's a lot less pressure.''
Alford has had quite a run as a player and coach. He was on the 1987 Indiana national championship team as a player. He coached Manchester to a 31-1 record in Indiana. He coached Southwest Missouri State to the Sweet 16. He won a Big Ten tournament title at Iowa. Now he has led a remarkable tunaround at New Mexico, taking a team that wasn't expected to contend in the MWC to win the league and shoot up to a top four seed in the NCAAs.
"This team and this year ranks right up there for me,'' Alford said. "It was unreal here (at the Marriott Center). There were 22,000 fans. The volume was incredible. They have a great program. Dave (Rose of BYU) does such a great job. I know we've done something to win in this place.''