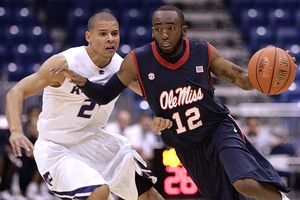 AP Photo/Ricardo Arduengo
Chris Warren is averaging 19.2 points a game and is dominating the court since his return from an ACL injury.Ole Miss coach Andy Kennedy doesn't want to toss around the word "special" too lightly.
But it is hard not to in describing Chris Warren. The junior guard has been simply amazing in his comeback from an ACL injury that limited him to 11 games as a sophomore.
Warren is averaging 19.2 points a game and quieted any potential conflict with last season's SEC freshman of the year Terrico White by simply being a better scorer thus far. There is room for both to be productive.
"He never has a bad day,'' Kennedy said of Warren. "He attacked his rehab like I've never seen anyone do before. Now he doesn't wear a sleeve or a brace or anything on his knee.''
The Rebels had injury issues last season with Warren and Eniel Polynice. In the offseason there was an injury to Zach Graham that could have prevented this squad from being whole. But with everyone healthy and on the same path toward making the Rebels an SEC West title contender, there seems to be no slow in this team. Ole Miss beat Kansas State in the Puerto Rico Tip-Off Classic, lost to Villanova in the title game, squeaked out a win over an improved Southern Miss, and then beat UTEP in overtime earlier this week in Southaven, Miss.
Next Wednesday, the Rebels play at No. 6 West Virginia against Kennedy's former mentor, Bob Huggins.
Kennedy said for the Rebels to have a chance against the Mountaineers, Warren is going to have to score. WVU can certainly defend with length and that could be an issue for the Ole Miss guards. But the Rebs are streaking right now and in position to be an NCAA team if they can continue on the current path.
Kennedy was impressed by UTEP's Derrick Caracter, who scored 15 points and grabbed 15 boards. "He's gotten a lot better,'' Kennedy said of Caracter, the former Louisville center. "We had no answer for him around the rim.''
Kentucky coach John Calipari said Friday that Thursday's practice was the "worst we've had in five years." Calipari was referencing practices at UK and his previous gig, Memphis. He said the poor practice habits led to him forcing the players into a full conditioning hour. The Wildcats host Austin Peay on Saturday and then Drexel two days later as they seek two more victories for the program's historic 2,000th win.
Meanwhile, Calipari said what prevents DeMarcus Cousins from having a breakout performance on a consistent basis is conditioning. He said Cousins came ready to compete for the full practice Thursday and was irritated the session turned into a conditioning practice.
Oregon State has been a major disappointment with losses to Sacramento State, Texas A&M Corpus-Christi and Illinois-Chicago, but coach Craig Robinson finally got some good news. The Beavers were counting on 6-foot-4 Roberto Nelson to be an impact guard this season, but he wasn't cleared to compete academically and couldn't practice. But Friday the Beavers received word that Nelson's paperwork out of Santa Barbara, Calif., had been cleared for him to be declared a partial qualifier. Nelson can now practice, and if he earns a qualifying standardized test score after Saturday's exam, he would be cleared to compete in games.
No. 19 New Mexico hosts No. 20 Texas Tech on Dec. 29. Both teams are ranked and both are unbeaten. And for the first time in 27 years -- according to long-time media relations director Greg Remington -- the game is sold out 11 days in advance. UNM announced that the game is a sellout with 14,586 expected. The last time two ranked teams played at the Pit was Feb. 1, 1999, when No. 20 Utah beat No. 17 New Mexico, 57-39. UNM hosts Creighton on Saturday and then goes to Oral Roberts, while Texas Tech is at Wichita State and then hosts Stanford. So it may be a battle of unbeatens, but it's certainly a better game than we could have ever foreseen just a month ago.