NEW YORK – What does it say if you don't play well and you still win by 35?
Well, for Duke, which defeated Gonzaga 76-41, it means the Blue Devils can find ways to win without leaning heavily in a big game on Kyle Singler.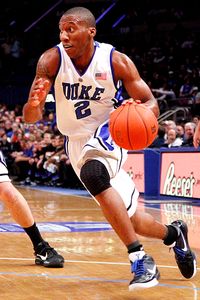 Jim O'Connor/US Presswire
Nolan Smith carried Duke on Saturday, scoring 24 points in a rout of Gonzaga.Nolan Smith was the go-to player, the one who wanted to take over Saturday's Gonzaga game when it had hit a malaise. Duke desperately needed someone to be the aggressor as Singler was simply off in this one (3-of-8 for nine points). Smith scored 24 points (10-of-17 FG), getting to the hoop, finding his mid-range game and taking advantage of an awful effort by Gonzaga, which turned it over 18 times and shot 28 percent (10 percent from 3).
The Bulldogs came in as the perceived top team in the West, but leave with plenty of questions. One big one: Did they peak too early in Maui?
Gonzaga has to return to the West Coast and find themselves again. They still have plenty of opportunities with games against Illinois in Chicago, Oklahoma in Spokane and at Memphis. But the Zags can't look as lost as they did Saturday and expect to be taken seriously deep into March.
Duke will be fine once Singler hits his stride. The size of the Blue Devils separates this team. They have plenty of fouls to give and if the guards can be as productive as they were Saturday, they have a shot to win the ACC. This isn't a national title contender, but one that can certainly make some noise in March.