INDIANAPOLIS -- No one is going to accuse Evan Turner of being a copycat.
OK, maybe just this once.
When West Virginia star Da'Sean Butler banked in a 3-pointer to beat Cincinnati in the Big East tournament Thursday night, Turner and his Ohio State teammate Dallas Lauderdale were watching. So, too, was Michigan guard Laval Lucas-Perry.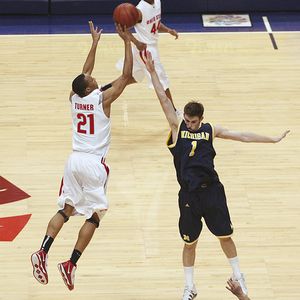 Brian Spurlock/US Presswire
Ohio State junior Evan Turner's 3-pointer at the buzzer gave the Buckeyes a thrilling win over Michigan."My boy, Da'Sean," Turner remembers saying after Butler's shot went through the net. "I'm going to have to make a shot, too."
Less than 24 hours later, he did, and an even more memorable one at that. Turner drained a 37-footer as time expired to help top seed Ohio State escape a major scare from No. 8 seed Michigan with a 69-68 win in Friday's Big Ten tournament quarterfinal matchup.
Unlike Butler's bomb, Turner's saved Ohio State from a loss that would have taken the Buckeyes out of consideration for a No. 1 seed. And Turner didn't even use the glass.
But the parallels between the two 3-pointers -- both by star players on Final Four contenders in conference tournaments against lower-seeded foes -- are too obvious to ignore.
"When Butler hit that shot, [Turner] was like, 'Wow, that's incredible,'" Lauderdale said. "I was like, 'That's what good players do.' And lo and behold ..."
In many ways, Turner was a poor candidate to hit such an incredible shot. He said he'd never hit one quite like that in a game.
The final play itself, which took place with just 2.2 seconds left, reminded Turner of the final play in last year's NCAA tournament first-round matchup against Siena. He had a chance to win the game in double overtime, but his 15-foot leaner missed at the buzzer.
Turner isn't known for his 3-point shooting and only attempts shots like Friday's while joking around with teammates at the end of practice.
And even then, he's not even good at making them. According to Lauderdale, little-used senior guard Jeremie Simmons owns the gym.
"He's usually the one who's way off," Lauderdale said of Turner. "We shoot the halfcourt shots and he's usually way too short, way too left, way too much to the right."
But with the game on the line, Lauderdale knew things would be different.
"We knew he could," Lauderdale said. "He took the shot with full confidence."
Michigan's defensive strategy on the final play still seemed very questionable, given Turner's reputation and the time left on the clock. The Wolverines had done a decent job double-teaming Turner all game, but they sagged off and let him receive the pass, take two dribbles and fire the shot against only one defender.
Despite the low-percentage shot, Turner and his teammates were surprised Michigan didn't deny the ball or swarm Turner.
"The whole game, they were swarming me," Turner said. "They gave me one good look. Being open, it felt a little bit free.
"I felt like I was in the gym by myself."
Lucas-Perry had a perfect view of Turner's heroics from under the basket. He pegged Turner's chances at making it at "six percent."
"I was underneath the rim and I was like, 'Dang, this is good,' and he made it," Lucas-Perry said. "It was in the air for about 20 seconds it felt like.
"It was like the West Virginia shot last night, when Da'Sean Butler hit that 3 against Cincinnati. It was just [Turner] had it at halfcourt."