INDIANAPOLIS -- Illinois center Mike Tisdale calls head coach Bruce Weber "a defensive juggernaut."
Few would use that term to describe Weber's team this season.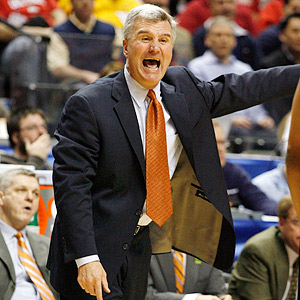 Brian Spurlock-US PRESSWIRE
Illinois coach Bruce Weber's new defensive strategy is paying off.Weber is known for demanding defense from his players, but Illinois struggled to defend its own basket for much of 2009-10. The Illini finished the regular season ranked 10th in the Big Ten in points allowed (66.5 ppg). In Sunday's home outing against Wisconsin, they allowed 72 points and couldn't keep the Badgers off the backboards.
When Monday's practice rolled around, Weber made a decision.
"I told [the assistants], 'I'm going to coach the way I want to coach,'" Weber said. "We went after it for about an hour: all competitive drills, very physical. Took a little bit of a reprieve on Tuesday, came back, same thing on Wednesday.
"I said guys, 'This is how we should be playing all the time.'"
Illinois responded in Friday's Big Ten tournament quarterfinal rematch with Wisconsin, holding the Badgers to 20 points through the first 24 minutes. Wisconsin's shooting percentage dipped to 15 percent at one point before guard Trevon Hughes got hot down the stretch.
It wasn't enough, as Illinois held on for a 58-54 win, its fifth against an top 50 RPI opponent. Weber and his players weren't about to proclaim themselves part of the NCAA tournament bracket, but as Tisdale said, Friday's win "couldn't hurt."
Illinois won its first game on a neutral court this season. The Illini blanketed the opponent's stars for most of the game. Veterans like Demetri McCamey (13 points, 8 assists, 5 rebounds) and Mike Davis (10 points, 10 rebounds) made key shots down the stretch, and Tisdale went for 21 points and eight rebounds.
Translation: Illinois looked like an NCAA tournament team, which hasn't always been the case this season.
"We've had our ups and downs where we've looked not [even] NIT-bound," Tisdale said. "And we've had games where we looked like we could beat anybody."
Weber stated Illinois' case after Friday's win, pointing out the number of quality wins, big road wins against Wisconsin and Clemson and a tough schedule to close the season. But he and his players stopped short of proclaiming themselves bracket-bound.
"Everybody keeps asking, but we don't know," Davis said. "Only the committee knows. [Saturday], if we win, we're definitely in."
Ohio State will test Illinois' newfound defensive intensity. The Buckeyes shot 53.1 percent in a blowout victory in Champaign on Valentine's Day, and they got hot from 3-point land in a 73-57 triumph in Columbus on March 2.
Weber targeted defense and rebounding as his top goals Friday, and Illinois responded, holding a 40-33 edge on the glass. He told McCamey and Davis that he needed their best defensive effort of the season, and they responded with 13 defensive rebounds and two blocks.
Monday's workout clearly paid off.
"It was like an early season practice," Davis said.
"If you walked in practice Monday for the first time," Tisdale said, "you'd have thought we were crazy."
Crazy? Perhaps.
But now Illinois might be called something else -- tournament worthy.