Derrick Caracter as a program boost?
Who'd a thunk it? Certainly not anyone in Louisville, where Caracter spent more time in Rick Pitino's doghouse than on the court.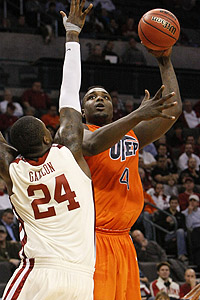 AP Photo/Alonzo Adams
Louisville transfer Derrick Caracter scored 11 points and had 10 boards for UTEP in its win over OU.
But away from the Big East spotlight and Pitino's glare, Caracter may have found his niche -- in El Paso, Texas of all places. On Monday night, Caracter helped UTEP to a signature 89-74 win against Oklahoma. He's played just four games for the Miners, but recorded three double-doubles, including the 11 and 10 he put on the Sooners.
With Memphis in rebuilding mode, Conference USA and its NCAA tournament bid is there for the taking, and UTEP, with Caracter and red-hot scorer Randy Culpepper, might be up for the grab.
Here's the caveat: It's early. Caracter has shown flashes before, but the good nights often were freight trained by his hot-and-cold relationship with commitment. Once the most highly regarded recruit in the country, he has been his own worst enemy.
If he has truly changed his ways, Caracter might finally live up to that surname and his abilities.
And UTEP might reap the benefits.