GREENSBORO, N.C. -– Mike Krzyzewski described the first half against Miami as "chaotic."
It was, more precisely, K-otic. The coaching giant earned a technical foul, shucked his suit coat and even seemed to get a bit peeved at his own fans for their lackadaisical support of the Blue Devils. By halftime the Devils trailed the last-place team in the league, 35-32.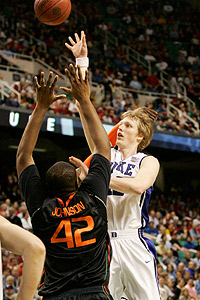 Andrew Synowiez-US PRESSWIRE
Duke forward Kyle Singler (12) shoots over Miami center Reggie Johnson (42) in the ACC semifinals.But that's when Duke tapped its other Special K. Kyle Singler rode the rescue and shot Miami out of the tournament, racking up 27 points, eight rebounds and six assists. Seventeen of those points came after intermission, as his hot hand staked Duke to a lead that grew as high as 16 points on the way to a 77-74 victory.
"Singler just kind of took the game over," Miami coach Frank Haith said.
Singler was a member of one of the great high school senior classes of all-time, playing in the McDonald's All-American game alongside Derrick Rose, Michael Beasley, Kevin Love, O.J. Mayo, Eric Gordon and Jerryd Bayless. They're all pros now, and Singler could be, too -- but his three years in college have only served to sharpen and diversify his game.
After playing a lot of power forward for his first two years at Duke, the Blue Devils' interior depth has finally freed him up to play as a more natural small forward. He's a major matchup problem at that position -- especially with so many teams playing three guards. Singler can post up smaller players and drag bigger ones outside.
And he can also find ways to stab holes in a zone, which he did by nailing a pair of 3s in the first two minutes of the second half. He made five for the game.
"Kyle was magnificent in the second half," Krzyzewski said. "I didn't think in the first half we took advantage of his matchup enough."
With leading scorer Jon Scheyer again struggling -- he's made just 9 of 27 shots in this tourney, and just 3 of 12 from 3-point range -- Duke needed Singler to step up. After two games he's the clubhouse leader for ACC tourney's most outstanding player, averaging 22.5 points and 9.5 rebounds in two fairly unimpressive Duke victories.
Staying in school has only cost Singler a little short-term money, but he should make it up on the back end by being a more productive professional. And in the meantime, he has the opportunity to lead Duke into the NCAA tournament as a probable No. 1 seed. If the Blue Devils make it to their first Final Four since 2004, it would be hard to put a price tag on that memory.