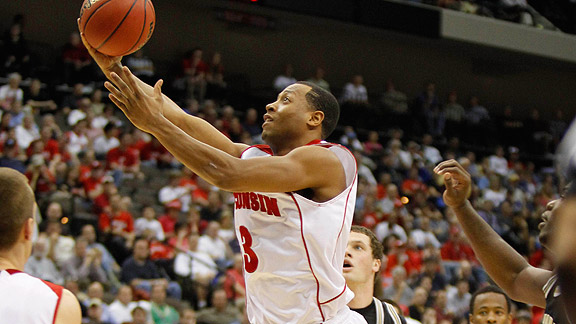 Bob Donnan/US PRESSWIRE
Wisconsin Badgers guard Trevon Hughes teamed up with Jon Leuer to give the Badgers a fierce 1-2 punch in a 53-49 win over Wofford.
JACKSONVILLE, Fla. -- With just one look from teammate Trevon Hughes, Jon Leuer knew what was coming.
Wisconsin had the ball, trailing Wofford by a point with the clock dwindling under 30 seconds. Leuer flashed out high, ready to set a ball screen for Hughes. But Hughes told him to "go flat," meaning head to the baseline. And that's when the two made eye contact.
"I knew then that if my guy came off, he was going to find me," Leuer said.
That's how it happened, too. Hughes drove into the lane, drawing a double team that left Leuer open in the corner. Hughes delivered the pass, and Leuer drilled a 17-foot jumper with 17 seconds left as the fourth-seeded Badgers held off No. 13 seed Wofford 53-49.
The two-man game worked all day for Wisconsin. Leuer had 20 points and Hughes scored 19, with the rest of the team adding only 14. But if the Badgers want to win more than one game in this tournament, they'll need more than just a pair of contributors.
Continuing a troubling trend that started in the Big Ten tournament loss to Illinois, Wisconsin struggled to get anybody other than Leuer and Hughes going. They combined to go 14-for-29 against Wofford while the rest of the team shot just 6-for-35. Against the Illini, the supporting cast was only 9-of-34 from the field. Third leading scorer Jason Bohannon is mired in an awful slump. He missed all four of his shots against Wofford and is 2-for-20 in his last three games.
"People game plan to not give up the three and that's his game," Hughes said of his backcourt mate. "He's going to come around, and I feel sorry for whatever team we play when he does."
Maybe, but until then the Badgers are living on the edge. If Wofford had made more than one of its seven second-half free throws, or if the Terriers' Cameron Rundles hadn't lost the ball out of bounds with 4.9 seconds left, Wisconsin might already be done. Hughes acknowledged that his team has to play a whole lot better against Cornell on Sunday.
This was a weird game in a lot of ways. Wofford couldn't make a shot most of the first half, and then it couldn't miss. The much smaller Terriers outrebounded Wisconsin 37-30. The Badgers had only four turnovers, but only dished out three assists.
"Sometimes it doesn't always go as scripted," Leuer said.
Luckily for he and his teammates, the most important play of the game developed just as he thought it would.