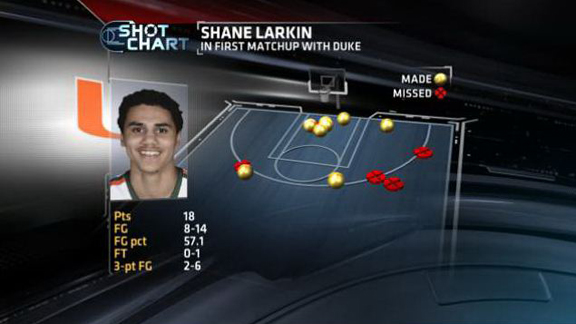 Miami guard Shane Larkin was able to get to the rim in the first meeting with Duke.
The Duke Blue Devils–Miami Hurricanes matchup at 6 p.m. ET Saturday on ESPN is the nation's most appealing game this weekend, even after Duke's loss Thursday night.
With that in mind, we offer up a stat-based preview of the matchup, including video-review data from our "Stats in the Paint" team.
What's at stake for Miami?
The Hurricanes …
Would clinch the ACC title outright with a victory, the first outright conference title in school history.
Would be first team since 1995-96 Georgia Tech to go 4-0 in the regular season against Duke and North Carolina.
Would be the first team with 15 wins in ACC play since 2002 Maryland.
Would tie the school record for wins in a season, 24, previously done in 2001-02.
Would be the first team other than North Carolina to win in Cameron Indoor in back-to-back seasons since the Tim Duncan-era Wake Forest team won five in a row from 1993-97.
Would be the first team other than North Carolina to win three straight against Duke since 2004-05 Maryland.
What's at stake for Duke?
The Blue Devils …
Most Coaching Wins at One School
Men's Division I History
Are 3-0 against top-five opponents this season. The last team to start 4-0 against top-five foes was 1991-92 USC, then led by star guard Harold Miner.
Haven't lost back-to-back conference games since 2009, when they lost to North Carolina and Boston College.
Haven't lost a home game following a road loss since Feb. 4, 2007, when they followed a 68-66 overtime loss at Virginia with a 68-67 loss to Florida State .
Are one win shy of their sixth consecutive 25-win season.
First-matchup takeaway: Miami dominated in transition
Miami outscored Duke 30-13 in transition during its 90-63 victory Jan. 23.
The 30 transition points were a season high for the Hurricanes' offense and the most allowed in a game by the Duke defense.
Duke is averaging 1.3 points per play in transition this season, third-best in the nation. The Blue Devils are shooting an ACC-best 62.7 percent in transition, but were held to 3-for-10 transition shooting in that contest.
The Blue Devils' transition defense has also been far better than it showed that day, allowing only 11.1 transition points per game this season.
Star watch: Shane Larkin in the pick-and-roll
Larkin: Pick-and-Roll Ball Handler
Miami point guard Shane Larkin is averaging 6.2 points per game as the pick-and-roll ball handler this season, second-best in the ACC and tied for fifth in the nation.
Larkin is shooting better than 50 percent on pick-and-roll plays in ACC games, more than 10 percentage points higher than he did in non-conference games.
Larkin was great in this role in the first meeting with Duke, going 4-for-6 for 10 points.
Miami's biggest weakness
Miami's biggest weakness this season has been its free-throw shooting, which ranked 274th in the nation (65.9 percent) entering Friday. The Hurricanes have shot 52 percent from the free-throw line in their four losses, shooting under 55 percent in each of those games.
Duke's biggest weakness
The Blue Devils have had issues with rebounding this season. They rank 247th in the nation in rebounding percentage, 240th in offensive rebounding percentage.
The Blue Devils have been outrebounded this season, 980-958.
Duke has also had its issues in the paint, allowing 31.9 paint points per game, most in the ACC. In the Blue Devils' four losses this season, they allowed 42 points in the paint to North Carolina State, 42 to Maryland, 38 to Miami and 34 to Virginia.
Stat of the night
Duke has won its past three top-five matchups at Cameron Indoor Stadium, including a 73-68 victory over then-No. 4 Ohio State earlier this season.