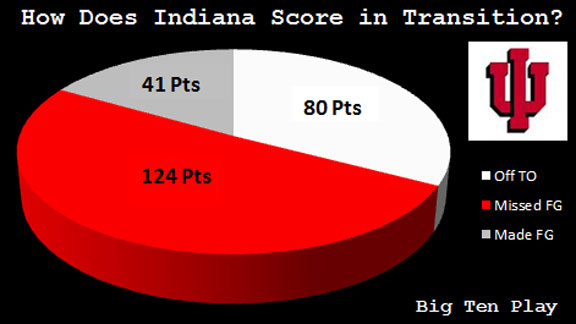 Indiana has scored 245 transition points, tied with Michigan for the most in the conference.
Let's take a stat-based look at tonight's matchup between No. 14 Ohio State and No. 2 Indiana on ESPN at 9 p.m. ET.
What's at stake for Ohio State?
Ohio State is seeking its third-ever true road win over a top-2 opponent, its first since beating Iowa 80-76 on January 24, 1987.
The Buckeyes have not beaten a ranked Indiana team at Assembly Hall since February 19, 2000.
What's at stake for Indiana?
Best Regular-Season W-L vs Top 25
Since 1996-97
Indiana is seeking its first outright Big Ten regular-season title since 1992-93. The Hoosiers are trying to beat Ohio State twice in the regular season for the first time since the 2007-08 season. Indiana's six wins against the top 25 are the most in the nation. They look to improve that record with Sunday's regular season finale against Michigan.
If Indiana wins both games, it could become the first school since Kansas in 1996-97 to finish the regular season 8-0 against teams ranked in the top 25.
Star Watch: Oladipo rising to the occasion
Indiana's Victor Oladipo is averaging 20 points, six rebounds and three steals per game against top 25 teams, doing so on 66 percent shooting from the field (45-for-68).
Oladipo poured in a career-high 26 points in the first matchup with Ohio State. Seven of his 10 field goal attempts were around the basket, scoring 10 points on 5-of-7 shooting. Three of those five makes around the basket were on putbacks after grabbing an offensive rebound. Ohio State is tied for 2nd-worst in the Big Ten in defending offensive rebound putbacks (1.13 PPP allowed) this season.
Due for a bounceback
Indiana seniors Jordan Hulls and Christian Watford will be looking for bounce-back performances after combining to shoot 0-for-15 against Iowa.
Tuesday will be senior night for this duo, who went 22-41 (7-29 in the Big Ten) as freshmen and sophomores, but are 52-13 (24-10) in that past two seasons.
One stat you might not have known about Hulls: The Hoosiers have outscored opponents by 439 points with him on the floor, the best plus-minus rating for an individual player in the nation.
Stat to watch: The easy basket battle
Ohio St Defense vs Indiana Offense
"Easy Baskets"
Ohio State allows 23.1 points per game in the paint, tied for the fewest in the Big Ten.
The Buckeyes gave up 28 paint points in their loss against Indiana on Feb. 10. They have allowed 29.1 such points per game in their losses and 21.1 in their wins.
The Buckeyes also allow the third-fewest transition points in the Big Ten. Indiana scores the most such points in the league.