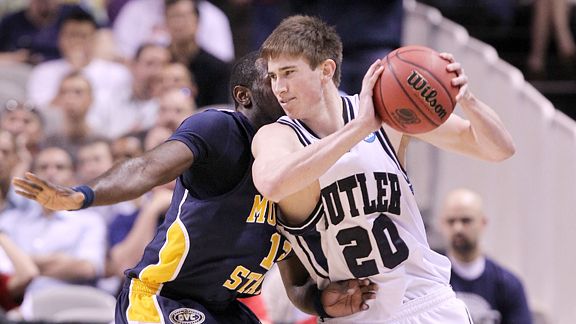 Jed Jacobsohn/Getty Images
Butler's Gordon Hayward made a key defensive play at the end of Saturday's win over Murray State.
SAN JOSE, Calif. -- Last season, Butler coach Brad Stevens came up with the saying, "The Game Honors Toughness!" and introduced it to his team by asking if anyone knew what TGHT stood for.
"Teach Gordon Hayward toughness," one smart aleck yelled out.
The good-natured joke around the Bulldogs' locker room has been that the Horizon League Player of the Year can do plenty of things well, but isn't necessarily known for picking up floor burns.
So the sight of Hayward poking away the ball from Murray State's Isaiah Canaan and diving after the loose ball all the way at the other end of the court to seal the game brought back the chuckles about TGHT after the game.
"We're getting to the Sweet 16 with Gordon Hayward on the floor," teammate Ronald Nored said smiling. "That's ironic. How about that?
"Biggest play of the year."
Hayward, a baby-faced 6-foot-8, 200-pound swingman, entered the game leading the team with 15.3 points and 8.3 rebounds per game and 27 blocked shots as a sophomore.
And now, the biggest play might have come with time winding down, and No. 13-seeded Murray State down by two looking for another buzzer-beater.
The freshman Canaan, who had already hit all four of his 3-point attempts, found Hayward out on the perimeter making sure he didn't have a shot and gave up the ball.
The two fought for the ball all the way down to time expiring.
"It was just a scramble," Hayward said. "It was just wanting to win."
He was only 4-for-13 from the field, finishing with 12 points. But seven rebounds, including three on the offensive glass, and the final sequence, will add to his legend.
Hayward, a Brownsburg, Ind., native, was raised by Purdue grads watching Gene Keady-coached teams, but ended up feeling comfortable at Butler.
He's apparently got a quirky side, too, recording a rap with high school friends entitled "Too Big Yo," a YouTube hit that has since been removed. Stevens said he was assured it didn't include anything dirty and wasn't any good, so he never did listen to it.
"Me and my friends were bored on spring break," Hayward said. "No more rap from me."
Just another win for Butler.