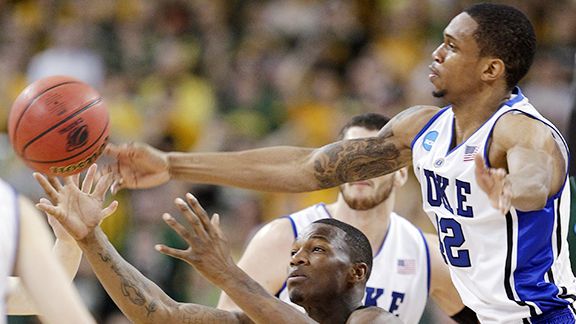 AP Photo/David J. Phillip
Baylor's LaceDarius Dunn, left, and Duke's Lance Thomas (42) battle for a rebound in the second half of the South final. Duke led in offensive rebounds, 22-16.How important is offensive rebounding? Ask the Duke Blue Devils. Or the Michigan State Spartans. Or the West Virginia Mountaineers.
By topping Baylor 78-71 in Houston Sunday, Duke will be the only No. 1 seed in the Final Four in Indianapolis. How did Duke do it? It wasn't shooting -- Duke shot 36 percent from the field Sunday. It wasn't defense, really -- Baylor scored 1.14 points per possession and kept pace with Duke for much of the game.
Quite simply, Duke outrebounded Baylor on the offensive end, grabbing 22 offensive rebounds and using those added possessions to get quick putbacks and earn trips to the free throw line. The Blue Devils grabbed 53.5 percent of their misses, 10 percentage points higher than the average of the most effective offensive rebounding teams in the country. Frankly, Duke dominated on the offensive glass, and in the coming week, when the cascade of "Duke is elite again" stories begins to flow, Coach K and company will have offensive rebounding to thank.
Duke has mastered this ability in its past, oh, three weeks of ACC and NCAA tournament dominance. This was convenient timing; offensive rebounding percentage, more than any other stat, has been a harbinger of NCAA tournament success in 2009-10.
How so? Three of the four Final Four teams convening in Indianapolis this week -- Duke, Michigan State and West Virginia -- rank among the top 10 in the country in offensive rebounding percentage (Duke is No. 8, MSU is No. 7, and WVU is No. 2). Of the eight teams that played this weekend, five were ranked in that same top 10. Including Baylor, six of those teams were ranked in the top 25. Butler and Tennessee don't rank in the top 100. Only the Bulldogs, who eschew board-crashing in order to get back and set up a half-court defense that's yet to allow an opponent 60 points in any game in the NCAA tournament, have joined the aforementioned three in the Final Four.
The trend is clear: Offensive rebounding percentage is consistently correlated to success in the NCAA tournament. Why? Because it allows a team to have off-shooting nights and still find ways to put points on the board. Shooting can go cold in a heartbeat. When this happens to an average offensive rebounding team, that squad is essentially left to shake its head, wonder why it couldn't get hot, and plan a return to glory in 2011. Offensive rebounding is more consistent. You can either do it or you can't. And when all else fails offensively, rebounds will always be there. Get them, get the ball on the rim and get easy buckets. Hot shooting not required.
West Virginia has essentially made this skill the focus of its offense in 2009-10. The Mountaineers are an average perimeter shooting team -- except for the first half against Kentucky on Saturday, that is -- but have ridden their uncanny ability to grab their own misses into a Final Four appearance. Of course, the Mountaineers have other strengths. They limit turnovers, play good defense, and so on.
That goes for Duke and Michigan State, too. Duke, the most efficient team in the country according to adjusted efficiency, obviously does plenty of things well. Michigan State is less well-rounded offensively, but the Spartans protect their own glass and keep their opponents from getting frequent trips to the free throw line.
It's too late for us now, but remember this for next year's bracket. March Madness is only 350 days away. It's time to start getting ready.
Sooner, though, we'll get to see how this dynamic will play out in Indianapolis. When everyone boards well, who wins? If the first two weeks of this tournament are any indication, it will be plenty of fun to find out.