Another basketball power with a star freshman was upset, with Kansas falling to Stanford in the Round of 32.
This was one of those games in which the pictures tell the story.
Wiggins couldn't close
Andrew Wiggins was basically a non factor in this game for Kansas, making only 1 of 6 shots from the field. He had averaged 28 points on 51 percent shooting in his previous four games.
Wiggins averaged 10 paint points in the six games in which Joel Embiid didn't play prior to Sunday, but did not have any points in the paint against Stanford.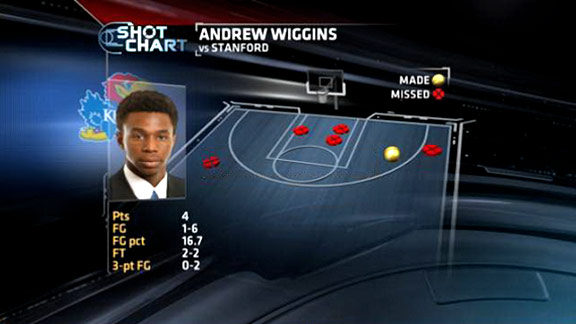 Andrew Wiggins didn't get many chances to score on Sunday.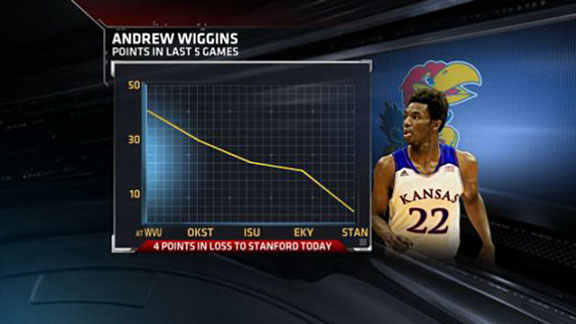 Andrew Wiggins' point total dropped in each game after his 41-point game agianst West Virginia.
The zone worked
Kansas shot 28 percent (8 for 29) when Stanford played zone, including 19 percent (3 for 16) in the first half. The Jayhawks entered the game shooting 48 percent against zone defenses, best in the Big 12 and 21st in the nation.
Wiggins and Perry Ellis were a combined 1 for 8 against the Cardinal's zone.
Jayhawks couldn't score from inside
Kansas went 10 for 31 in the paint (32 percent). Entering the game, the Jayhawks were shooting 62 percent in the paint for the season.
Kansas averaged 13.7 dunks and layups per game entering the day. It had only six on Sunday.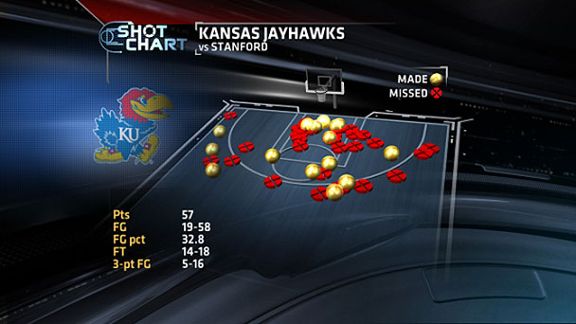 57 points tie Kansas' fewest in a game this season (61-57 loss to San Diego State on Jan. 5).
Did You Know?
Stanford survived going 0 for 9 from 3-point range to pull out the win. They're only the second team to go 0 for 9 from 3 in an NCAA Tournament win, joining Connecticut, which did so in a win over Gonzaga in 1999. No team has fared worse and won an NCAA Tournament game.