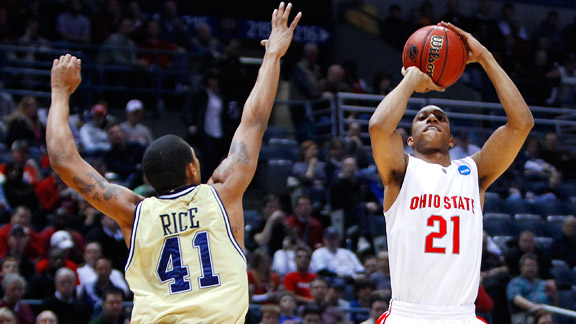 Frank Victores
Ohio State's Evan Turner had to work for it, but he was effective in the Buckeyes' win over Georgia Tech.MILWAUKEE -- For 20 minutes, Ohio State looked decidedly average. Then the Buckeyes decided to run.


It was that style that separated Thad Matta's squad from a physical Georgia Tech team in a 75-66 win. With No. 1 Kansas conspicuously out of the way, the victory carried the top-seeded team left in the Midwest into a Sweet Sixteen match up with No. 6-seed Tennessee.
Ohio State had problems with Georgia Tech's defense in the first half. The Jackets were physical, making Evan Turner work for every inbounds pass and pressing him the length of the floor. By the time OSU got the ball into the half court offense, Turner was effective but not efficient, making six of his 15 shots. The rest of the Buckeyes were stagnant and off-kilter.
Here's a blessing for balance, then: When Ohio State returned from its halftime break, the Buckeyes took a different approach. They didn't stall in the halfcourt -- they went right at the Jackets, right to the bucket, and right to a win.
"We were attacking," Turner said. "Once we got into the backcourt, we attacked."
That change in mindset led to an 18-6 run in the first seven minutes of the first half that extended Ohio State's lead to 46-32. Rather than settling for challenged jump shots, Ohio State led off the half with three dunks and several layups. Then Buckeyes guard Jon Diebler found his stroke, and not even an impressive late run by Georgia Tech was enough to keep the Buckeyes from coasting to the second weekend of NCAA tournament play.
"Evan, he kind of kept us in the game with his aggressiveness," Diebler said. "And that's why I think we're such a dangerous team. We're a very good basketball team, because he is going to draw so much attention and that just leaves for some easy shots for us."
This was always the game the Buckeyes needed to play against a slow, physical team like the Yellow Jackets. Georgia Tech didn't do itself any favors -- no pun intended, promise -- by getting its big men Gani Lawal and Derrick Favors into so much foul trouble. Lawal and Favors played a combined 45 minutes in the game, and neither player ever established himself on either end of the ball.
"[It was a] big difference," Matta said when asked about a Favors- and Lawal-less Georgia Tech team. "Because I think that going into the game we were consumed with those two and what they were capable of doing. ... Watching the Oklahoma State game, they seemed engrossed in pounding the ball inside. We knew they were going to try to do that to us today.
"When they're not on the floor, they're definitely, definitely a different basketball team."