MILWAUKEE -- Jordan Crawford has a come a long way.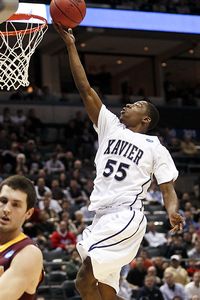 AP Photo/Morry Gash
Jordan Crawford's 28 points led Xavier to a first-round win over Minnesota.That's both rhetorical and literal. Crawford's talent has developed in a way most of those who saw him play as a freshman at Indiana University, where he was recruited by Kelvin Sampson, wouldn't believe. The gangly guard shoots, passes, drives, scores, steals -- in the matter of a full season under Xavier coach Chris Mack, Crawford has blossomed from a marginal talent with tons of potential into a bonafide star.
Exhibit A: Xavier's 65-54 win over Minnesota Friday, in which Crawford scored 28 points on 21 shots, adding six rebounds, five assists and two steals in the Musketeers' impressive first round NCAA tournament victory.
To do that, Crawford had to travel. He left Indiana University in the wake of the fallout from Sampson's dismissal and subsequent show-cause penalty. Crawford landed at Xavier, where he sat out for the year-long transfer period, all the while working on his game. Two years later, that awkward freshman with all that potential has turned into one of the best guards in the country.
"I think you have to give Jordan a lot of credit," Mack said following Xavier's win. "But I also think the environment that he's in now is one that really, truly cares about the student athlete. ... We're a family, and when you're in that type of environment, it helps you grow as a person."
Crawford's star turn isn't as sudden as some NCAA tournament viewers might think. Remember the infamous, mysterious LeBron Video from last summer, the one in which a camper at LeBron James' elite camp allegedly "dunked" on the King? After attempts to stifle the video, it became the hottest thing on the Internet -- even if it ended up being a massive disappointment -- and yes, the dunker in question was Jordan Crawford. The mini-fervor over the video "got his name out there" after sitting out for a year, Crawford said, even if he seemed less impressed with the play than most.
"I think people already knew I could play a little bit," Crawford said.
Maybe. They probably didn't know he could dunk on the world's greatest basketball player. They certainly didn't know he was this good. But they do now.