Everyone with a conscience in college basketball is hoping for the best news possible for Purdue star forward Robbie Hummel. But for now, no news is no news. We don't know.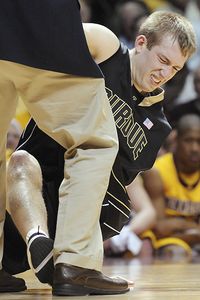 AP Photo/Jim Mone
Purdue fans are hoping Robbie Hummel's injury doesn't sink their season.So while Purdue fans nervously wait for an update that will shape their postseason, it seems like an opportune time to review some of the biggest injuries of the past 20 years in college basketball.
(Note: All the injuries on this list occurred at the midpoint or later in the season, after the player had established himself as a key component on a championship-caliber team.)
Alan Henderson, Indiana, 1993. The 6-foot-9 Henderson injured a knee late in a season when the Hoosiers were storming to a 28-3 record that included a 17-1 mark in the Big Ten -- and a pair of victories over a Fab Five Michigan team that would wind up playing for the national title. Indiana locked up a No. 1 seed but faltered in the regional final against Kansas in St. Louis with Henderson dragging his bad leg around the court.
Derek Anderson, Kentucky, 1997. At the time the athletic wingman injured his knee in late January, he was considered a first-team All-American, averaging nearly 18 points per game for the 15-2 Wildcats. Even without Anderson, Kentucky advanced to the national title game and lost in overtime to Arizona. With him, the Cats would have done a much better job guarding Miles Simon and probably would have won the title in a walk.
Kenyon Martin, Cincinnati, 2000. Never heard an arena go more quiet than the Pyramid did all of two minutes into the No. 1 Bearcats' Conference USA tournament quarterfinal game against Saint Louis. That's when national Player of the Year Martin when down with a broken leg. Just more than a week later, the Martin-less Bearcats went down in the NCAA second round to Tulsa.
Curtis Sumpter, Villanova, 2005. He was the Wildcats' leading scorer and rebounder when he went down with a torn ACL during their NCAA second-round victory over Florida. And while 'Nova was only a No. 5 seed, it went on to scare the dickens out of eventual national champion North Carolina in the Sweet Sixteen before falling 67-66. If Sumpter had been healthy, who knows?
Brian Butch, Wisconsin, 2007. The Badgers were 26-3 when center Butch gruesomely dislocated his elbow in a Big Ten-deciding battle with Ohio State. Butch missed the rest of the season, which ended with the No. 2-seeded Badgers losing in the NCAA second round to Nevada-Las Vegas.
And take a minute to remember the all-time championship-ruining injury: the broken arm suffered by Indiana star Scott May in 1975. That helped lead to the Hoosiers' lone loss in a two-year period, to Kentucky in the '75 regional finals, preventing repeat national titles for the last true juggernaut.