GREENSBORO, N.C. -- Late in the first half of its ACC tournament quarterfinal game, with his team trailing major underdog Miami by 10 points, Wake Forest guard L.D. Williams dug in defensively.
He dogged Hurricanes guard Durand Scott left, right, left again -- in his face until the officials blew the whistle and signaled a five-second call. Williams had forced a turnover.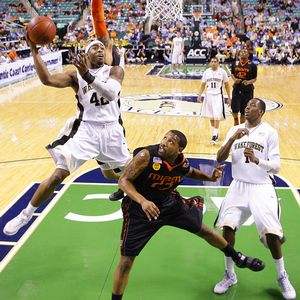 AP Photo/Chuck Burton
Wake Forest's L.D. Williams (42) goes to the hoop as Miami's James Dews (23) defends during the second half of Hurricanes' 83-62 win.He responded with two clenched fists and a yell in the direction of his Demon Deacons teammates.
Their damning, telling reaction?
They completely ignored Williams' effort.
None of the other four Wake players on the court came to congratulate him. Not a single slap on the back, not a fist bump, nothing. The Deacons simply went about their half-hearted business.
"I feel like it was that way from Jump Street," Williams said. "Coach (Dino Gaudio) was telling us all week we need to play with a tremendous amount of emotion, a tremendous amount of enthusiasm. I don't know what happened."
What happened is this: Wake Forest was humiliated 83-62 in its own backyard by a team that won just four ACC games and was playing without its injured leading scorer and rebounder, Dwayne Collins. The performance was so bad that it will once again calls into question Wake's NCAA tournament credentials, and Gaudio's viability as the coach of this program for the long term.
The Deacons must hope that their athletic director, Ron Wellman, shielded all the televisions in Indianapolis from his fellow NCAA selection committee members. Either that, or he'll have to do some off-the-record lobbying for a team that has lost five of its last six games.
Wake has some quality wins on its record, over Gonzaga, Richmond, Xavier and Maryland. But they're also playing the worst basketball of anyone in the at-large pool.
"We'll see on Sunday," Williams said of the NCAAs. "I have no clue."
Under Gaudio, Wake hasn't had a clue in the postseason. Or a victory. They're now 0-4 in postseason games under Gaudio, who got the job full-time after gracefully handling the sudden death of his boss and close friend, Skip Prosser, in the summer of 2008.
In each of those four losses, Wake was the higher seeded team. And in each of those four losses, Wake was beaten by double digits.
Last time I saw the Deacons in person, they were being routed by No. 13 seed Cleveland State in the NCAA tournament. Now this.
A Miami team with nothing going for it scored on eight of its first nine possessions to start the game. Then, already up 14, it went on an 8-0 run to start the second half. Wake Forest had no response.
"Sometimes I feel like we just go through the motions," Williams said.
Among those who appeared to be going through the motions Thursday was Wake's most talented player, sophomore Al-Farouq Aminu. He somewhat surprisingly returned to school after a productive freshman season but has played very poorly during Wake's very bad stretch.
Aminu came into this tourney averaging 15.9 points and 10.8 rebounds per game but had scored just 25 total points in his last three games, including being shut out at Florida State. Against a depleted Miami front line, Aminu produced a lethargic 11 points and seven rebounds while playing 25 minutes -- his lowest minute total since mid-December.
"He just wasn't playing well, so I was just trying to put the guys out there who'd give us the best opportunity to win," Gaudio said. "And therein lies why he sat."
Gaudio has won 60 of his 90 games as Wake's head coach -- a perfectly fine winning percentage. But he's also been blessed with an abundance of talent -- and that talent isn't coming close to performing in the postseason.
This is a sport where coaching reputations rise and fall in March. After this debacle, Dino Gaudio's has hit rock bottom.