NEW ORLEANS -- Old Dominion didn't come to the Big Easy to be an easy out.
Nor did the Monarchs come just to be a part of the spectacle that is March Madness.
"We weren't interested in a participation ribbon," Old Dominion coach Blaine Taylor said.
Obviously not.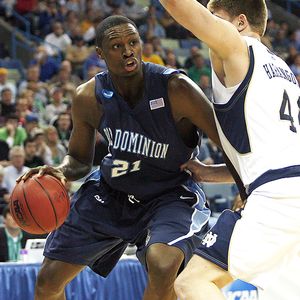 Crystal LoGiudice-US PRESSWIRE
Old Dominion forward Frank Haskell led the Monarchs with 15 points in their win over Notre Dame.The No. 11 seed Monarchs are headed to the second round after taking down No. 6 seed Notre Dame 51-50 at New Orleans Arena for their first NCAA Tournament win since the 1995 season.
There wasn't a lot pretty about it, but that's exactly the way these guys like it.
"We win with defense and rebounding. We've won that way all year," said Old Dominion junior forward Frank Hassell, who led the Monarchs with 15 points and nine rebounds.
"Even when we're not shooting well, like in the first half, we don't worry, because we know our defense is going to pull us through. We keep playing defense no matter what. A lot of teams would have been down by 15 points at the half."
Old Dominion faced a 28-22 deficit at the break after trailing by as many as nine points in the first half. The Irish didn't shoot it particularly well in the first half, but they shot it even worse in the second half.
Notre Dame's Luke Harangody didn't score until the final seconds of the game, both of his baskets coming on a pair of rebound baskets. He ended his career shooting just 2-of-9 from the field.
The Monarchs were determined not to let him get started. They played man-to-man defense in the first half and switched to a 3-2 zone and then a variation of a 2-3 zone after that.
"We focus on us and think we can play with most people in the country," Taylor said. "Our kids have a strong belief that they can play defense and rebound with most people. That doesn't change regardless of who we're playing or how we're playing on offense."
The Irish shot just 6-of-26 from 3-point range, including a flurry of missed 3s down the stretch. Carleton Scott had a look from the corner in the final seconds that could have tied the game, and the ball seemed to go about halfway down the basket before popping out.
"That's the only time all game that I got scared. That scared me," Hassell said. "But if we had gone into overtime, we feel like we would have pulled that out, too.
"If we play like we play, we're going to be fine."
The Monarchs only had five team fouls and had one to give there at the end, but Taylor said they decided against it. He didn't want to give the Irish a good look at inbounding the ball from the mid-court area and was going to take away Ben Hansbrough as a 3-point option. Hansbrough was 3-of-8 from behind the arc.
"I guess I'm kind of old school," Taylor said. "I think we can guard people and stop them."
This time of year, old school works just fine.