Best QB performance of the season: Bryce Petty vs. Buffalo – Sept. 7, 2013
Petty put up video game numbers against Buffalo, going 13-of-16 for 336 yards with two touchdowns. He threw no interceptions, was not sacked, and did not fumble. He also added a five-yard touchdown run for good measure. Add in the fact that Buffalo's QBR allowed this season in all other games against FBS schools is 26.7, and Petty's opponent-adjusted QBR for the game was 99.5 -- the best for any quarterback in a single game this season.
Most dominant performance of the season: Baylor vs. UL-Monroe – Sept. 21, 2013
The ESPN Stats & Information win probability model calculates the chance each team has to win at the start of every play. Taking the average win probability across all plays can give a good idea on how dominant the team was in the game. By this measure Baylor had the most dominant performance of the season against an FBS team. Its average win probability per play against UL-Monroe was 93.5 percent. By the end of the first 13 minutes, Baylor led 35-0 and had a 98 percent chance to win. It never looked back from there. Four of Baylor's five wins have come with an average in-game win probability of 90 percent or higher.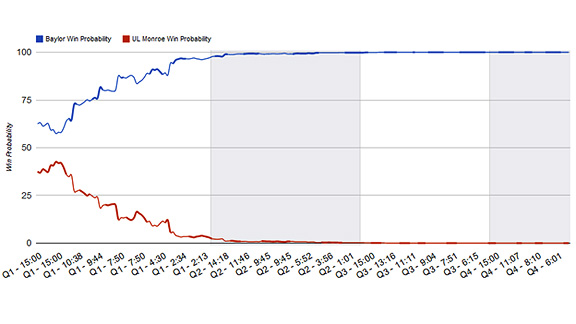 Best offensive performance of the season: Baylor vs. West Virginia – Oct. 5, 2013
If the top quarterback game and the most dominant game weren't enough, Baylor also put up the best offensive performance of the season in an entirely different game. Baylor put up 73 points against an otherwise above average defense in West Virginia. The Bears won the game by 31 points, and their rush EPA (expected points added) of +30 tells us that margin was almost entirely covered by Baylor's ground attack. Overall Baylor's offensive EPA in the game was +41. Adjusting for West Virginia's above average defense, the Bears' opponent-adjusted offensive EPA was +49 -- the highest for any offense in a single game this season.
Game changing play of the season: Ole Miss at Vanderbilt – Aug. 29, 2013
On the opening Thursday night of college football, Ole Miss and Vanderbilt gave us one of the most memorable games of the season. After surrendering the lead just seven seconds earlier, Ole Miss running back Jeff Scott rushed for a 75-yard touchdown to put the Rebels back ahead by three with 1:07 left in the fourth quarter. According to Stats & Info's win probability model, this play took the Rebels' chance of winning from 13 percent to 88 percent -- the largest one-play swing for any BCS-AQ school all season. After several wild swings in the fourth quarter, this play put Ole Miss ahead for good.