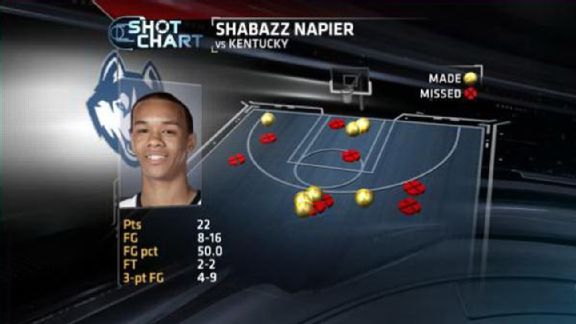 Shabazz Napier made big shots every time Connecticut needed them.The unlikeliest champions of them all are the Connecticut Huskies, the first No. 7 seed to win a men's basketball championship.
Connecticut always seems to find a way, and once again on Monday night it did, led by the best player on the floor in point guard Shabazz Napier.
The history
Connecticut has won four national titles, tied with Duke for fifth most all-time (trails UCLA, Kentucky, North Carolina and Indiana).
Connecticut is 4-0 all-time in national championship games, the best undefeated record for any school. Connecticut's four-game national championship winning streak is tied for third longest in NCAA tournament history.
The Huskies are also now 6-0 in Final Four games in the state of Texas.
125 Pts, 25 Assists & 25 Rebounds
Single NCAA Tournament
Kevin Ollie is the 12th coach to win a national championship at his alma mater (the first since Roy Williams in 2005 and 2009).
Ollie is the first coach to win a national championship within his first two seasons as a Division I head coach since Michigan's Steve Fisher in 1989.
Connecticut is the first team to win the national championship without winning its regular season or conference tournament title since Arizona in 1997 and the first team to win the title despite not playing in any postseason tournament the previous season since NC State in 1974.
Most Outstanding Player: Shabazz Napier
Napier finished with 22 points. He scored 37 percent of the Huskies' points for the game, the third-highest percentage by a player in a national championship win in the past 30 seasons (surpassed only by Glen Rice in 1989 and Danny Manning in 1988).
Napier put himself in elite college basketball company, as noted in the chart above.
Difference-Maker: Free Throw Shooting
Connecticut became the first team to shoot 100 percent from the free throw line in a national championship game, making all 10 of its foul shots.
Kentucky was 13-for-24 from the free throw line. It was a situation reminiscent of Memphis' struggles at the free throw line in the 2008 championship game under John Calipari, when it made 12 of 19 foul shots in a loss to Kansas.
Connecticut finished 101-115 (87.8 percent) on free throws for the tournament, the best free throw percentage by a team in a single NCAA tournament (minimum three games).
The previous record was 87 percent by St. John's in 1969.
The other side
This was Kentucky's fourth loss in a national championship game (tied with Ohio State and North Carolina for fourth most all-time, including vacated games) and its first title game loss since 1997 (versus Arizona).
Kentucky's past two NCAA tournament losses have come against Connecticut (2011 Final Four, 2014 national championship).
Indicative of how this wasn't Kentucky's night-- the Wildcats had only 26 attempts in the paint. They averaged 43 in their past two games.
Kentucky had a tournament-low 24 paint points and tied its tournament lows in second-chance points (7) and points off turnovers (10).
Kentucky averaged 0.871 points per possession, its second-worst offensive efficiency of the season (0.870 vs. Arkansas on Feb. 27).