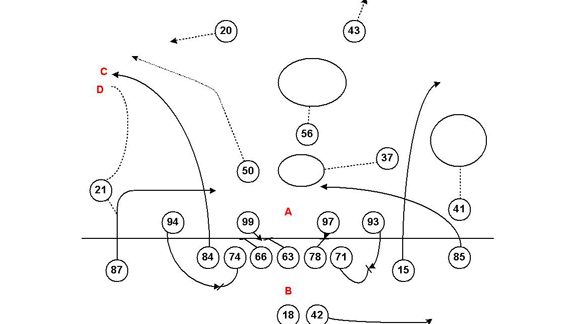 A closer look at Peyton Manning's decisive interception against the Colts in overtime
In the Indianapolis Colts' overtime loss to the Dallas Cowboys on Sunday, the critical play was a third-down interception thrown in overtime by Colts quarterback Peyton Manning. Using the diagram above, let's take a closer look at the play and the statistical analysis that led to specific decisions and results.
A) The Cowboys line up with five defensive backs
Dallas put at least one extra DB on the field for every one of Peyton Manning's 48 pass attempts in the game. Entering this play, their nickel-dime-quarter packages had allowed 10 passing touchdowns and recorded 10 interceptions (for an 85.5 opponents' passer rating), while their 3-4 pass defense had allowed 15 touchdowns and recorded only two interceptions (for a 120.7 opponents' passer rating)
B) Manning takes the snap out of the shotgun
Entering Week 13, Peyton Manning had attempted 51 more passes out of the 'gun than the next closest quarterback, and had completed 43 more than the runner-up (Shaun Hill was second to Manning in both categories with 309 and 189, respectively). However, nine of his 11 interceptions entering the game had come out of the shotgun.
C) Play selection puts the odds in the Colts' favor
Manning and the Colts attempt a "safe" 11-yard pass down the left sideline, a play the Cowboys defense had struggled with entering Week 13. Dallas ranked dead last in the NFL in touchdowns allowed (20) and opponents' passer rating (103.5) on passes of 14 yards or less. Manning loves the left sideline, and entering this play he was 6-12 for 89 yards and a touchdown (102.4 passer rating) in the game to that part of the field.
D) Mike Jenkins creates the tip drill
Cowboys corner Mike Jenkins (No. 21) bumps receiver Reggie Wayne (No. 87) within five yards of the line, then breaks off and gets into position to break up the pass intended for Jacob Tamme (No. 84). The pass defensed becomes Jenkins' second of the game and fifth of the season on attempts of 14 yards or less, breaking a tie with linebacker Keith Brooking for the team lead. Linebacker Sean Lee (#50) trails the play and finds himself in perfect position to snatch the tipped ball and turn the tide in the Cowboys' favor.