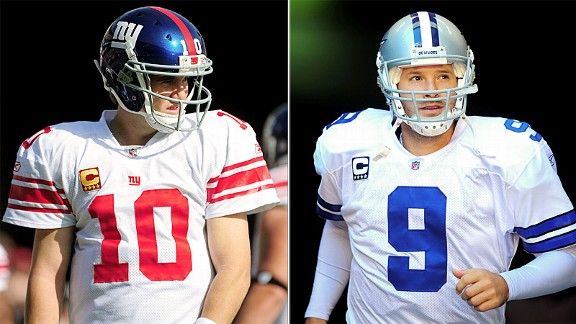 US Presswire
Eli Manning was selected to the Pro Bowl, though a stat-based argument could be made for Tony Romo.
If Dallas Cowboys quarterback Tony Romo was looking for any further motivation regarding Sunday's matchup with Eli Manning and the New York Giants, he can find it, at least statistically, in his omission from the NFC's Pro Bowl roster.
Manning was selected over Romo despite Romo ranking eight spots ahead of him in the Total QBR rankings.
Romo's Total QBR for the season is 72.4, fourth-best in the NFL and third-best in the NFC, behind Aaron Rodgers of the Green Bay Packers (85.2) and Drew Brees of the New Orleans Saints (82.7).
Manning ranks 12th overall and among NFC quarterbacks, he also rates behind Matt Ryan of the Atlanta Falcons (66.2), Michael Vick of the Philadelphia Eagles (62.4), Matthew Stafford of the Detroit Lions (60.8), and Jay Cutler, who was placed on injured reserve on Tuesday by the Chicago Bears (59.5).
The biggest difference between Romo and his competitors is a big gap in the expected points he added in his pass attempts. He ranks fourth in that stat, (known as Pass EPA), adding 111.7 points to his team this season. Manning rates a distant fifth (85.9). A major reason for this is that Manning has thrown nearly twice as many interceptions (16) as Romo (nine).
Total QBR
Explanation
Romo's Total QBR was boosted by four games with a Total QBR of 90 or better, a 27-24 win over the San Francisco 49ers in Week 2 (Total QBR: 93.9), a 23-13 win over the Seattle Seahawks in Week 9 (Total QBR: 90.0), a 44-7 win over the Buffalo Bills in Week 10 (Total QBR: 99.3) and a 31-15 win over the Tampa Bay Buccaneers in Week 15.
In those four games, Romo was a combined 85-for-120 for 1,143 yards, with 10 touchdowns and no interceptions.
Manning only has one game this season that ranked in the Top 50, a 27-24 win over the Buffalo Bills in Week 6 (Total QBR: 91.4; 27th-best in the NFL this season).
He does have three others that rate very well, and it likely helps his cause among those selecting the Pro Bowl rosters, that two of those were in wins against the New England Patriots (Total QBR: 81.3) and the Cowboys (Total QBR: 77.1)
The Pro Bowl selections for the AFC were basically a match for the Total QBR rankings.
Tom Brady of the New England Patriots, Ben Roethlisberger of the Pittsburgh Steelers, and Philip Rivers of the San Diego Chargers, are first, third, and fourth in the conference in Total QBR, respectively. Injured Houston Texans quarterback Matt Schaub was second.
The next-best possible AFC quarterback by Total QBR, Matt Hasselbeck of the Tennessee Titans was actually just one spot below Manning, at 58.8, 13th-best in the NFL.