Houston's visit to American Airlines Center figured to be another prime opportunity for Mavs coach Rick Carlisle to take a couple in-game looks at the most potent offensive lineup he can put on the floor: Jason Kidd and Jason Terry in the backcourt, Josh Howard and Shawn Marion at the forwards and Dirk Nowitzki masquerading as a center.
Yet we never saw that unit.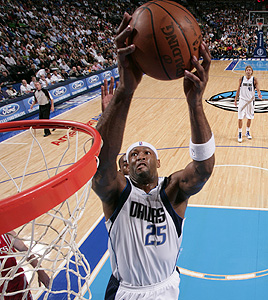 Glenn James/NBAE/Getty Images
Erick Dampier had 14 points, 20 rebounds and three blocks in the Mavericks' win over Houston on Tuesday.
After testing that group out twice in Saturday's cakewalk against Toronto, Carlisle didn't see an opening or need to bring it back in Tuesday night's 121-103 trouncing of the Rockets, even though Houston routinely plays plenty of small ball with Yao Ming out for the season and the undersized Chuck Hayes and Carl Landry serving as its main Yao fill-ins.
The reason?
It would appear that Erick Dampier convinced his coach not to go that route.
Dampier was so dominant against the Rockets -- with 14 points, 20 boards and three blocks -- that Carlisle was understandably motivated to ride him. On the occasions Dallas did go small against Houston, Drew Gooden was given the opportunity to log nearly 17 minutes of center play after missing four games with a strained rib-cage muscle.
The Mavs, though, still have high aspirations for what Kidd simply refers to as a "dangerous lineup for us." Howard's slower-than-expected recovery from offseason ankle and wrist surgery wiped out that the fivesome's opportunity to get reps in the exhibition season, but the brief glimpses against Toronto were well-received by the coaching staff.
In a lot of ways, Marion -- not Nowitzki -- takes on most of the responsibilities of a center for that unit. He can start the fast break with his rebounding ability to push the ball and has already impressed folks internally with his passing touch and knack for getting inside on pick-and-rolls. Marion, furthermore, is the Mav most likely to be guarded by opposing centers in that alignment, because teams aren't about to keep a five man for long on the versatile Nowitzki. Dirk's role and offensive approach, remember, don't change even when he's the biggest Mav on the floor.
But there's also little reason to stray from the conventional when Dampier is playing like this. It's still way early, obviously, but he's giving Dallas even more than even the biggest optimists out there -- knowing that the 34-year-old has to deliver in what's effectively a contract year -- were expecting.
Dampier ranks No. 1 among Western Conference centers in blocked shots (2.57 swats per game), second in rebounding (11.1 boards per game) and tops the entire league in shooting percentage (70 percent from the floor) while averaging 9.6 points. He's also rung up three double-doubles in just seven games after averaging only 8.6 double-doubles per season in his first five seasons as a Mav.
Marc Stein covers the NBA for ESPN.com and contributes to ESPNDallas.com.