Would you trade places with Dale Earnhardt Jr.?
You get to drive some really potent race cars. Make millions of dollars a year. As a single guy you date some really hot chicks. And you hang out with your posse, as Junior likes to refer to them.
You would?
Not me. Not even for all the millions he makes. Even after seeing some of the hot chicks.
I don't envy the pressure Dale Jr. faces every week. The weight of the sport is a heavy load to carry.
[+] Enlarge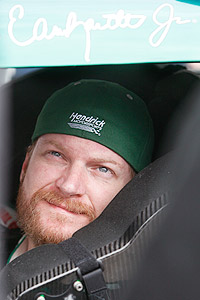 AP Photo/John Bazemore
Dale Earnhardt Jr. has just three wins since 2004, but he remains NASCAR's most popular driver.
When the 2010 NASCAR Sprint Cup season started, a USA Today story essentially said that the easiest way the sport could improve its TV ratings and attendance would be for Earnhardt to win races. That on the heels of the worst Cup season in Earnhardt's career. He hasn't won a race in nearly two years, was 25th in the point standings, posting only two top-5 and three top-10 finishes.
Junior only has the success of the sport riding squarely on his shoulders while he tries to work his way out of a slump.
Fair or not, success early in Junior's career and being the namesake of arguably the greatest driver of all time -- seven-time champion Dale Earnhardt -- have placed the driver of the #88 Chevrolet in a tough spot.
"It's like the Lakers or Celtics," said Brian France, NASCAR chairman. "He is the major franchise, and if he returns to that high level, it'll help."
The only person I can think of that could possibly relate is Kyle Petty, the son of the sport's only other seven-time champ, Richard Petty. When the younger Petty came on the scene, he won the very first race -- the 1979 ARCA race at Daytona. While ARCA is not NASCAR, Petty found himself on the front page of newspapers across the country, suddenly the sport's phenom and its biggest overnight name.
How did that work out? Not bad. He scored eight wins in a 30-year career that saw him run 846 Cup races. But it didn't come close to his father's record 200 NASCAR wins.
However he knows, if only to some degree, the level of pressure Dale Jr. has to deal with.
"The sport has changed so much since I came along in 1979," Kyle Petty said. "I didn't really know pressure or expectations and our sport was growing rapidly. But in the last couple of years the economy has been upside down and ratings are down a little, so everybody thinks the quickest relief is for Junior to win. He's a smart guy. He knows everybody points toward him as the quick, easy solution. That only increases the pressure, more pressure than anyone in our sport has ever had to deal with. Trust me, its got to be tough being Dale Earnhardt Jr."
What about being The Intimidator's son?
"My advice to him is to be himself, not to try to be his dad," Kyle Petty said. "I never tried to be Richard Petty. Of course, people will say I succeeded at that because I never had The King's success. But I did my best and it's not reasonable to demand anything more from Junior. There was only one Richard Petty and only one Dale Earnhardt Jr. Trust me, he's done great and he'll win again."
So give Dale Jr. some slack. It's not easy carrying the full weight of NASCAR on his shoulders. It's not easy being Dale Earnhardt's son.
NASCAR is not easy. Period.