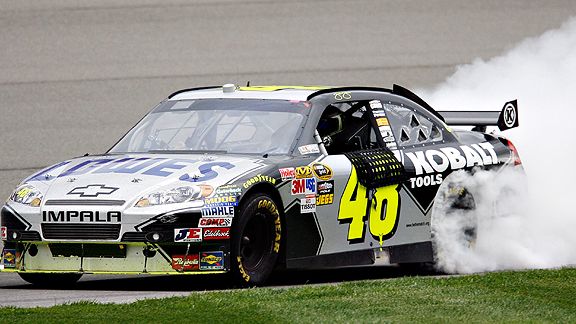 Tom Pennington/Getty Images
Jimmie Johnson's postrace victory burnouts have become cliche, especially with the four-time Sprint Cup champion having done 25 of them since the start of the 2007 season.
Burnouts. Donuts. Backflips. Fence climbs. Polish Victory Laps.
This is how some of the best drivers in the world celebrate wins in the NASCAR Sprint Cup Series.
[+] Enlarge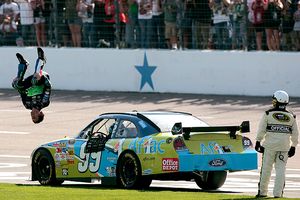 Todd Warshaw/Getty Images
Carl Edwards' victory celebration is unique, explaining its popularity with fans (show here at TMS in 2006). After all, not everybody can pull off a backflip from the roof of their car.
Quite honestly I'm tired of the burnouts and donuts. The others, they're OK. In fact, they're great because they are unique to the celebrants. But it doesn't take any talent or skill to do a burnout or a donut. I've never driven a Cup race in my life, but I can slide behind the wheel of a Cup car and instantly do a burnout or a donut. Instantly.
Do fans really enjoy this "celebration?" If you love motorsports the way I do, you love the sweet smell of racing fuel, the aroma of hot tires and even the odor of race car exhaust (maybe that explains some things). But I find nothing pleasant in cheering a driver to a victory only for him to lay a thick cloud of blue/white smoke on 200,000 people in the grandstands as a reward for our cheers. It's kind of like spraying for mosquitoes -- only bigger.
The unique celebrations are great. Carl Edwards' backflip is great because Carl can do it. Can you beat Jimmie, Jeff, Tony and the rest and still look like an Olympic gymnast by nailing the dismount? That's skill.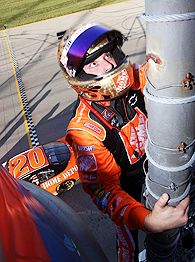 Jamie Squire/Getty Images
Tony Stewart hasn't climbed the fences in quite a while, bucking his victory celebration even after winning four Sprint Cup races in 2009.
Fence climbing as a way of celebration was brought to us by Indy 500 (and Dancing With the Stars) champ Helio Castroneves after he won his first Indy Car race, the 2000 CART Detroit Grand Prix. The ever-excitable Castroneves jumped from his car and scaled the fence to get close to the fans in celebration.
Tony Stewart kind of swiped Castroneves' act. It's great fun to see the emotional Castroneves still climbing fences after a win. But it's great to see a chubby Tony Stewart struggle to successfully climb the fence. Stewart will even tell you that from time to time he's downright fat. It's part of his appeal. I just hope the fences can hold the load.
And then there is the "Polish Victory Lap," developed by the late Alan Kulwicki, the 1992 NASCAR Cup Series champ. Kulwicki, who was Polish, was an engineer and known for being quiet and studious. Those of us that knew him well knew Kulwicki had a sharp sense of humor and loved to have fun.
When Kulwicki won his first Cup race in 1988, he did his victory lap running clockwise around the track, not counter-clockwise as the race is run. When he got to Victory Lane, the media asked him about it and Kulwicki beamed and referred to it as his "Polish Victory Lap." Only Kulwicki could get away with making fun of his own ethnicity and everybody loved it. When Kulwicki died in April 1993 in an airplane crash, other drivers started doing "Polish Victory Laps" after their wins in a nod of respect to Kulwicki.
But the burnouts and the donuts? Not special. Not original. If you have nothing original, just go to Victory Lane and accept the trophy.