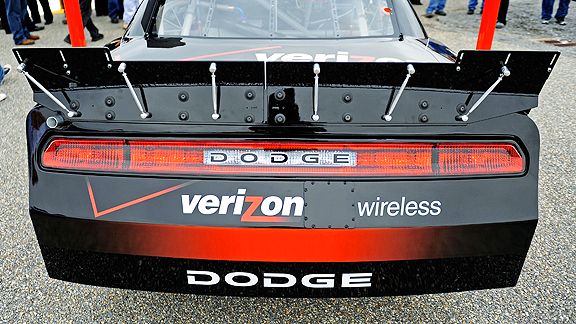 Mark J. Rebilas/US Presswire
The new spoiler, the biggest adjustment to the CoT yet, is a welcome change for drivers who hated the clumsy wing.
NASCAR Sprint Cup teams tested recently at Texas Motor Speedway using a spoiler as opposed to the rear wing, which has been used exclusively on the "Car of Tomorrow" since its introduction in 2008. Word has it that the spoiler will replace the wing by March 21 at Bristol or March 28 at Martinsville. That would mean that Texas Motor Speedway would be the first of the important 1.5-mile speedways to use the spoiler.
Driver Jeff Burton thinks the spoiler will make a big difference as teams are focusing all of their testing (on-track, wind tunnels, computer simulated, etc.) on using the spoiler. Burton believes the season can be broken down in "before spoiler" and "after spoiler." Because intermediate tracks like Texas make up the majority of the 10-race Chase for the Sprint Cup at the end of the season, how the spoiler performs on these tracks is critical.
If it is used at Texas for the Samsung Mobile 500 on April 18, it may be a wild card for the teams and could result in a surprise winner if a team finds the right combination. And it could make for an interesting championship run next fall.
Why is NASCAR making the change? They have heard from the fans that they don't like the look of the rear wing. Stock cars have traditionally -- but not always -- used a spoiler to create down force on the rear-wheel drive Cup cars. The wing was new and, quite frankly, turned off some long-time fans. Credit NASCAR for hearing you on this one.