Poor Kevin Harvick.
Clearly the car to beat at Daytona, Harvick again had a strong car at Auto Club Speedway, finishing second in Sunday's race. An unfortunate speeding violation on pit road may have cost him a chance at the win. Four-time NASCAR Sprint Cup Series champ Jimmie Johnson won Sunday's race, the 48th of his career.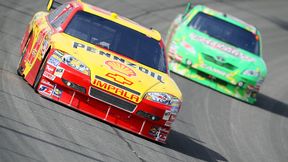 Jeff Gross/Getty Images
Kevin Harvick led 27 laps Sunday at Auto Club Speedway.
Harvick's "speeding ticket" forced him to chase Johnson down to the wire. His car looked faster than Johnson's, but Harvick brushed the fourth-turn wall with four laps to go. Without the violation, Harvick may not have been forced to press so hard at the end, perhaps making a mistake.
Teammate Jeff Burton finished third in the California race. After Harvick wounded his car bouncing off the fourth-turn wall, Burton closed but ran out of laps to make the pass.
Despite not winding up in Victory Lane in either of NASCAR's first two races, Harvick has reason to smile. It appears his Richard Childress Racing Team has made improvements and put Harvick, Burton and teammate Clint Bowyer in contention. Last season all three failed to make The Chase. It was a long fall from grace for the team that Dale Earnhardt Sr. drove for en route to six of the seven NASCAR Cup Series titles.
At Daytona, Bowyer finished fourth, Harvick seventh and Burton wound up 14th.
Sunday, not only did Harvick and Burton finish second and third, but Bowyer came home eighth.
It's too early to be counting points, but coming out of the box strong is important. Harvick and his RCR teammates are picking up points and confidence. And confidence breeds confidence.
Look for Harvick to win races and contend for the 2010 title.