NASCAR told the Sprint Cup Series drivers that they were loosening the reigns on them this season and "to have it, boys." If you watched Saturday night's Budweiser Shootout at Daytona, did they ever.
There was aggressive driving beginning in practice earlier in the week and it carried right over into the Shootout. I wondered to myself if it was because of NASCAR's relaxing of the rules or because there were no points on the line?
The answer is "yes" on both counts. There was plenty of aggressive bump drafting going on from start to finish, and I thought the most impressive was when Juan Pablo Montoya was giving a push to Jimmie Johnson. You would have thought they were shot out of a cannon in the fashion they were moving up to the front.
[+] Enlarge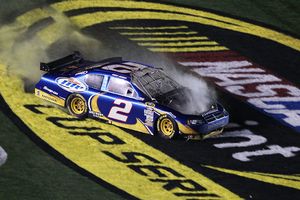 Nick Laham/Getty Images
Kurt Busch took a scary ride across the Daytona infield after his hood flapped up against his windshield. Busch, who car went back up the track and hit the wall, was uninjured.
Some of the other aggressive bump drafts resulted in accidents, and several of the drivers talked about the bigger plate caused quicker closing times and that it will take some getting used to.
Kurt Busch already has been involved in two crashes, neither his own fault. He had one in practice and then took a wild ride through the tri-oval infield grass in the Shootout after contact with Mark Martin. The car's front splitter acted like a rototiller through the infield, sending dirt and grass through the engine compartment and blowing the hood up on the windshield. Imagine driving at almost 200 miles per hour for like two-thirds of a mile with your hood on your windshield. I can't imagine going 20 miles per hour for 10 feet like that. Thankfully, Kurt was uninjured and still had his sense of humor intact when they interviewed him afterward, joking he took more laps in the track ambulance than his Dodge Charger during the week.
It was also great to see good friend Kevin Harvick back in Victory Lane. He struggled through a very frustrating season in 2009 -- as did all the Richard Childress Racing folks -- so it was encouraging to see some promise for the upcoming season for him and hopefully his RCR teammates too.
Will we see more of the same racing in Sunday's Daytona 500? Probably so. Even though this will be a points-paying race and everyone wants to get off to a good start to the season, it is still the sport's biggest race of the year and there is a ton of loot and prestige on the line. It may not be as wild as the Shootout in the early going, but you can bet the last 10 to 20 laps will be as wild if not wilder than the Shootout.
I mentioned in my opening blog that Tony Stewart was going to drive down with our friends from Sprint and me to the Super Bowl, and that I was anticipating some entertaining stories from the off-track time with "Smoke."
Tony wound up meeting us at the game and I was a bit surprised that I didn't see the talkative and joking guy I know. I met the Tony Stewart that is one hardcore Colts fan, much like me with the Green Bay Packers. He sported his Colts cap and he was intense all game, sitting on the edge of his seat from start to finish. Pretty cool to see an athlete of another sport focus so intensely on the performance and execution of other athletes. And one that personally knows the desire, drive and teamwork it takes to become a champion.
Many in the NASCAR community were up -- including me -- at 4:14 a.m. Eastern Time in Daytona Beach this morning to see the Space Shuttle launch from Cape Canaveral. Driver Mike Skinner, however, thought the launch time was 4:19 a.m. He got up five minutes late. By then, the shuttle was literally halfway across the Atlantic Ocean. It gave a new meaning to the phrase, "You snooze, you lose."
Speaking of snoozing, I'm hopping on a plane back to DFW and plan to do a little of that along the way. It's been quite a weekend.