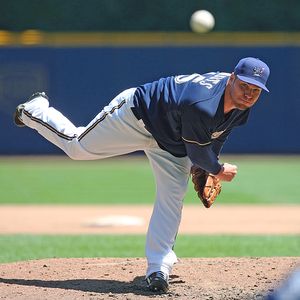 Jeff Hanisch/US Presswire
Ben Sheets could bolster the Rangers' deep lineup of pitchers.
The Rangers were one of a handful of teams that watched Ben Sheets throw on Tuesday at the University of Louisana-Monroe.
One report said pitching coach Mike Maddux was in attendance, watching Sheets throw 20 fastballs (topping out at 91 mph) and a bunch of curve balls as well. The report quoted one scout as saying Sheets "looked good physically."
The Rangers are long shots on Sheets at this point. They have spent most of the money in their budget. But you can never completely count them out as we've seen this offseason. General manager Jon Daniels can get creative. Sheets does appear to have plenty of suitors right now as he tries to make his comeback.
Are you OK with the Rangers' pitching situation entering spring training? Do you want Sheets?