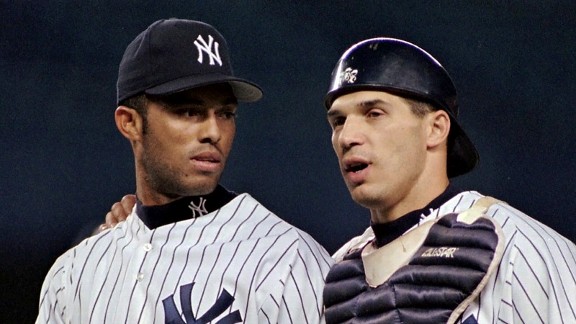 AP Photo/John Dunn
Mariano Rivera gets kudos from his catcher (now manager) after a save against the Rangers in 1997.For the remainder of the 2013 season, we will look ahead to Mariano Rivera's matchups against teams he will be facing for the final time in the regular season.
By the Numbers
Mariano Rivera's career stats vs Rangers
Regular Season
2.28 ERA
38 saves
5 blown saves
86 2/3 innings pitched
85 hits allowed
60 strikeouts
22 walks
Postseason
0.00 ERA
5 saves
0 blown saves
14 innings pitched
4 hits
7 strikeouts
2 walks
10 appearances
Did You Know?
Rivera's 38 saves against the Rangers are the most against them by any pitcher, a dozen more than the pitcher who ranks second, Rollie Fingers.
• Rivera's five postseason saves against the Rangers are tied for his second-most versus any team and tied for the third-most by any pitcher against any team in postseason play.
• Rivera went 3-0 against the Rangers in 2000. That's one of only two instances in which he beat a team three times in a season. He also beat the Red Sox three times in 2003.
• Rivera has not allowed a home run to the Rangers in more than 13 years. He has pitched 47 consecutive innings against the Rangers without allowing a homer. The last Ranger to homer against Rivera was Ivan Rodriguez, who hit a game-tying shot with two outs in the ninth inning on April 19, 2000. The Yankees would win the game on a Clay Bellinger homer in the 10th.
Rodriguez would play a notable role in a save milestone for Rivera. A year later, Pudge was the final out of Rivera's 200th save (Aug. 1, 2001)
Most Saves vs. Opponent
Postseason History
Rivera has not allowed a homer in his last 44 appearances versus the Rangers, his third-longest homerless streak versus any opponent and his longest active streak.
He had a 45-game streak against the Rays from 1998-2005 and a 46-game streak versus the Royals from 1996-2008.
• Rivera ranks second among closers with at least 200 saves with an 89.5 percent save-conversion rate. The only pitcher better is current Rangers closer Joe Nathan, whose save percentage currently stands at 90.1 percent.
• Rivera has succeeded against the Rangers despite relatively low strikeout totals. His 6.2 strikeouts per nine against the Rangers is his second-lowest rate against any team (6.1 in eight appearances against the Marlins). Rivera's strikeout-to-walk rate (2.73) vs the Rangers is his second-worst among AL teams (Athletics, 2.69).
• But Rivera did have one significant strikeout against the Rangers. A month into his tenure as closer in 1997, he faced reigning AL MVP Juan Gonzalez with the bases loaded and two outs in the ninth inning, holding a one-run lead. Rivera struck Gonzalez out looking.
It is one of only two instances in Rivera's career in which a batter watched strike three go by with the bases loaded and two outs in the ninth inning against Rivera, with the Yankees winning by one run.
• Rivera has allowed a batting average/on-base percentage/slugging percentage slashline of .091/.130/.091 in 14 postseason innings versus the Rangers. That's his lowest postseason batting average, on-base percentage and slugging percentage allowed against any team.
He has given up four singles to the 47 batters he has faced over 10 postseason appearances vs the Rangers.
They Said It
"[What impresses me most is] his longevity, being able to do it for this long. He's not a rah-rah-type guy. He doesn't get too high. He doesn't get too low. One of the biggest things for him is not letting the hype of the game get to him, just go to the mound and do his job. If he gets a save, just go up to the mound and try to do it again tomorrow."
-- Rangers closer Joe Nathan
Magic Mo-ments
Rivera clinched the ALDS against the Rangers in back-to-back seasons, getting the final three outs of a 4-0 win in Game 3 of the 1998 ALDS and the final six outs in a 3-0 win in Game 3 of the 1999 ALDS.
One of Rivera's most memorable escapes came against the Rangers on Aug. 11, 2010. After allowing a leadoff triple to Elvis Andrus with the Yankees leading 7-6 in the ninth inning, Rivera got Michael Young to fly out, Josh Hamilton to ground out and Vladimir Guerrero to ground out to end the game and preserve a Yankees win.