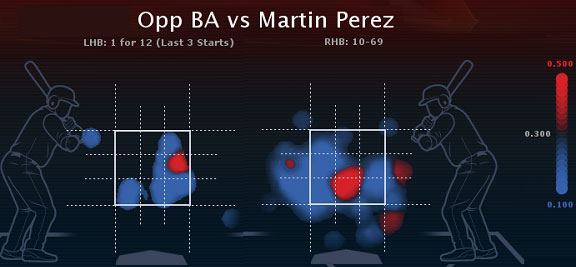 Martin Perez has excelled versus everyone in this three-start run.Rangers lefty Martin Perez isn't necessarily a dominant pitcher, but he's finding ways to get through starts without allowing any runs.
PerezPerez pitched his second straight shutout in beating the Athletics and has now thrown 26 straight scoreless innings over his last three starts.
He's the first pitcher to throw consecutive shutouts since Cole Hamels in 2012 and the first Rangers pitcher to do so since Derek Holland in 2011. He's the fourth pitcher in franchise history to throw eight or more scoreless innings in three straight starts, the first since Charlie Hough in 1983.
How he did it
Perez has not overpowered opposing hitters. He has 13 strikeouts in his last three starts, with three in this game and two in the 1-0 win over the Astros on April 13.
But when he gets two strikes, he's made things difficult. Opponents are 1 for 36 with two strikes against him. Key to that has been pitch location. Sixty nine of his 84 two-strike pitches have been in the lower-half of the strike zone or below.
With that, Perez has made excellent offspeed pitches. Opponents are 2 for 30 in at-bats ending in a changeup, curveball or slider (1 for 20 against the changeup).
Perez has also been perfect when it comes to avoiding tough situations. Opponents are 0 for 23 against him with runners on base.
Looking ahead
In his next start, Perez will try to be the first pitcher to throw three straight shutouts since Cliff Lee in 2011. He could also be the first pitcher to throw four straight starts of eight or more scoreless innings since Orel Hershiser set the scoreless inning record with six straight such starts in 1988.
That game should come against the Athletics, whom the Rangers will host from April 28 to 30. Perez has allowed four earned runs in 22 1/3 innings in his last three starts against them, including Wednesday's shutout.