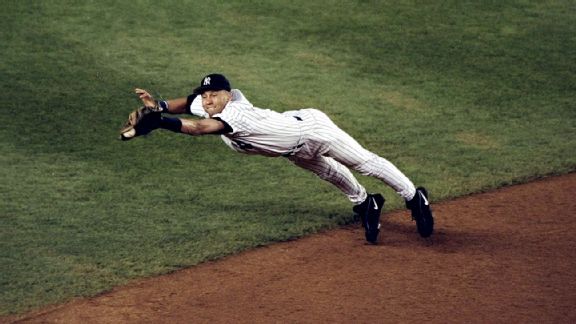 Ezra O. Shaw/Getty Images
Derek Jeter gave the Rangers trouble with his bat, his glove and his hustle.All season we'll be tracking Derek Jeter as he prepares to play in his final series against each team. Next up on the list is the Texas Rangers, against whom the New York Yankees start a series on Monday.
Career versus Rangers
Regular Season
.326 BA
.398 OBP
.513 Slug Pct
194 hits
111 runs scored
24 home runs
90 RBIs
146 games
Postseason
.302 BA
0 HR
7 runs scored
2 RBIs
19 hits
17 games
By the numbers
Jeter's .513 slugging percentage and .912 OPS against the Rangers are his highest such numbers against any American League team. His 24 home runs are tied for second-most, though his rate of home runs per at-bat is also the best against any AL team (other than the Houston Astros, against whom he's had only 46 at-bats).
Jeter's .326 batting average versus the Rangers is the second-highest all-time against the franchise by any player with at least 575 at-bats.
Jeter had what could be called his best season against an opponent in 1998 against the Rangers, hitting .510 (26-for-51) with 13 runs scored, four home runs and 19 RBIs in 11 games. Only one other Yankee has hit at least .500 with 19 RBIs in a season against an opponent -- Joe DiMaggio against the St. Louis Browns in 1936 (.525 batting average, 27 RBIs in 22 games with 52 hits!)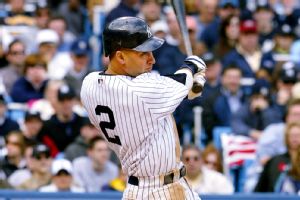 AP Photo/Kathy Willens
Derek Jeter's home run swing was a familiar site to the Rangers.Jeter has hit .450 or better against the Rangers three times, with the other two instances being in 2012 (.483) and 2007 (.458). They're the only American League team that he has done that against three times.
Jeter's .455 batting average against the Rangers in the 1999 American League Division Series is his highest batting average in a postseason series that the Yankees won. His .111 batting average against them in the 1998 ALDS is the lowest of his postseason career.
Jeter's first RBI against the Rangers came via a triple on April 12, 1996. The person who scored the run? Joe Girardi, who is now the Yankees' manager.
Jeter has never gone more than two regular-season games in a row without a hit against the Rangers. The last time he went two in a row was 2005.
Jeter's .500 slugging percentage in Globe Life Park in Arlington is his second-best in an American League park, trailing only the now-no-longer Tiger Stadium (.547). He has exactly 100 hits in 70 regular-season games in the Rangers' ballpark, a pace that translates to 231 hits over 162 games.
Jeter had a 33-game on-base streak versus the Rangers from 1998-2001. The only shortstop to have a longer streak of reaching base safely against the Rangers was Julio Franco, who posted a 34-game streak from 1983-86.
Jeter's 19 career postseason hits against the Rangers are the most versus the franchise by any player.
The Yankees are 21-1 in regular-season games against Texas when Jeter homers. The only loss was on Aug. 23, 2002.
The Yankees are 91-55 in Jeter's 146 regular-season games against the Rangers and 11-5 against them in the postseason. So over 162 games, he's 102-60 against them.
They said it
"Class act. A true professional, has been his whole career. I saw him in the minor leagues, in low A-ball. The guy had the same arm. He wins championships, makes everyone around him better. A heady player, the ultimate example in the ultimate organization.
"Last night he hit that double and they put up there that he just passed Lou Gehrig as the all-time doubles leader for the New York Yankees. How old is he? Lou Gehrig and Derek Jeter ...
"I don't know if anyone in the Yankees' organization, when they drafted him, knew that this is where he would be at the end. It just goes to show you, they made one helluva choice. Not only was he a pretty good ballplayer, but an example for the type of organization they built."
-- Rangers manager Ron Washington
Jeter's best moments
Jeter had arguably his best offensive game in his career against the Rangers on May 6, 1998, going 4-for-6 with a home run, a triple and a career-high-tying five RBIs in a 15-13 Yankees win.
On Aug. 11, 2010, Jeter had a game-tying hit in the ninth inning in a 7-6 Yankees win, a game in which the Yankees rallied from a 6-1 deficit.